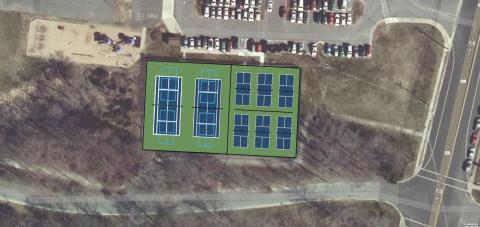 The aging courts at George Washington Park are being improved. The staff-recommended improvements consist of a new configuration of six dedicated pickleball courts and two dual-use courts with both tennis and pickleball lines. All the courts will receive new surfacing, nets and fencing. These court improvements are timely as the courts at the park require resurfacing and repair.
The staff-recommended improvements align with recommendations in the recently completed Pickleball Study, and is an effort to introduce a greater variety of court sports to accommodate the diverse users across the county. The interest in pickleball locally and countywide is growing quickly, and the introduction of pickleball at this location will help address additional facilities for this emerging sport.
Public comment on the proposal can be forwarded now through May 27, 2022 to 65533@PublicInput.com. The final configuration of the courts will be determined by early June and will be informed by public sentiment in regard to the recommended improvements and the findings of the agency's recent research into pickleball demand in Fairfax County.
It is anticipated that the courts at George Washington Park, located at 8426 Old Mt. Vernon Road in Alexandria, Virginia, will be closed for up to four months to account for the resurfacing process and any inclement weather. The athletic court vendor, ATC, will mobilize on site this week to begin demolition in preparation for new courts. Once new asphalt is laid, the courts will sit undisturbed for a period of two to four weeks to allow the color coating to adhere properly. New fencing and nets will be installed once the color coatings have set and the courts are ready to open again.
For more information about the project and updates to the construction schedule, visit the George Washington Park Court Improvements website. For any additional information, please contact the Public Information Office at 703-324-8662.