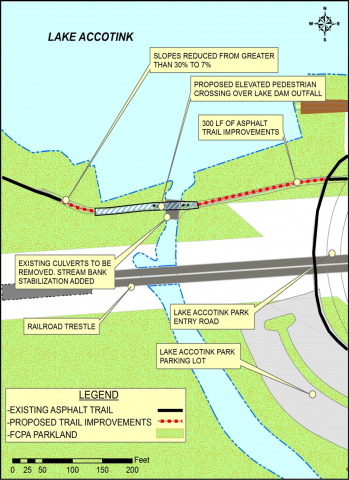 The Fairfax County Park Authority will soon begin construction on the Lake Accotink Dam Stream Crossing Project (LADSC) at Lake Accotink Park located at 7500 Accotink Park Road in Springfield, Virginia.
The contractor, Franco's Liberty Bridge Inc, will be mobilizing on site with active construction activities beginning this summer. The project involves creating approximately 300 linear feet of asphalt trail improvements and 325 linear feet on an elevated concrete pedestrian crossing over the dam outfall in Lake Accotink Park. Total project costs, inclusive of design, permitting, testing, utilities, construction and administration, is just over $3 million.
The Lake Accotink Loop Trail system is currently one of the most heavily used trails in the Park Authority, serving communities around Lake Accotink and park visitors throughout the region. The existing pedestrian and vehicular crossing at the outfall of the Lake Accotink dam floods suddenly and frequently, often stranding trail users and tempting them to wade through swiftly running water. Excessive damage due to major storm events has required a total reconstruction of the trail twice in the last five years. This project will resolve these issues, enhancing safety and accessibility for park users.
Project completion is anticipated in early 2023. Residents should expect occasional construction traffic entering and exiting the Accotink Park Road entrance. Portions of the surrounding Lake Accotink Trail will be closed and signs posted during construction.
For more information, please contact Project Manager Heather Lynch at heather.lynch@fairfaxcounty.gov, or contact the Public Information Office at 703-324-8662 or via Parkmail@fairfaxcounty.gov.