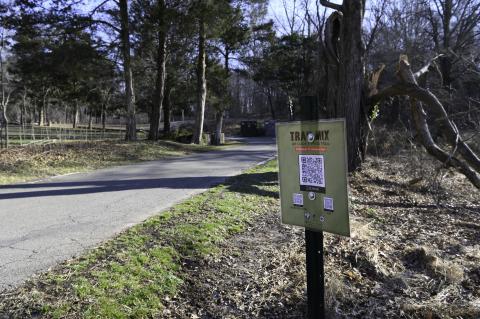 National Trails Day is celebrated each year on the first Saturday in June. It is a great time to commit to leaving the trails and outdoor communities better than when you found them. Walking on trails has many health benefits. Physical benefits include building stronger muscles and bones, improving balance, improving heart health, and decreasing the risk of some respiratory issues.
Mental health benefits include improved mood, reduced stress, lower risk of depression and anxiety, and improved sensory perception.
This year, the Park Authority is celebrating trails day in several ways: with hikes at numerous locations, events at several sites and a new topic page filled with information about the trail system in Fairfax County and how you can enjoy this convenient resource right outside your backdoor. Visit the National Trails Day page.
The Park Authority Wellness team is leading the way and emphasizes the additional benefits walking on trails can have for our social health. Walking in nature is a great tool to help build healthier relationships with a partner, friend, family members or neighbor.
This year on National Trails Day, our rec center staff is celebrating by holding a group walk near each rec center. Come make a friend and walk with us at:
South Run at 8 a.m. Meet at the trail head of the Lake Mercer/Burke Lake trail near the South Run Rec Center Field House.
Providence at 10 a.m. Meet at Mason District Park by the old snack bar.
Audrey Moore at noon. Meet at Audrey Moore Rec Center to explore the Gerry Connolly Cross County Trail.
Lee District and Mount Vernon at 10 a.m. Meet outside Lee District Rec Center to explore Chessie's Big Backyard trail.
Oak Marr at 3:30 p.m. Meet at the Hunter House parking lot at Nottoway Park.
Spring Hill at 9 a.m. Meet at Spring Hill Rec Center to explore local trails.
Cub Run at 9 a.m. Meet at Cub Run Rec Center to explore Cub Run Stream Valley trail.
For more information about Trails Day programs sponsored by the American Hiking Society across the region, as well as the nation, visit the American Hiking Society website.