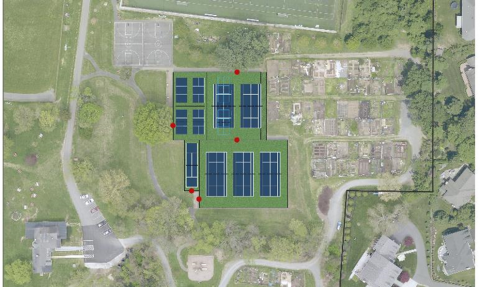 The Fairfax County Park Authority Board approved $650,000 in funding for court improvements at Lewinsville Park in McLean, Virginia. The action was taken during the Park Board's regular meeting on May 11, 2022. These improvements include conversion of one tennis court into four dedicated pickleball courts and reconstruction of the surfacing and fencing for the five remaining tennis courts and two basketball courts. The approved improvements are timely, as all the courts at the park require resurfacing and repair. Project completion is anticipated by late summer/early fall 2022.
In collaboration with the Dranesville District Supervisor's Office, the Park Authority held a virtual public meeting on Dec. 1, 2021 and presented options for incorporating pickleball as part of the overall needed court improvements at the park. The public meeting was followed by a 30-day public comment period. Feedback received from the community was considered in the selection of the court improvements.
The athletic court contractor, ATC, will mobilize on site during the week of June 13 to begin demolition of the existing court fencing and gates. Over the next several months, the existing surfacing will be removed with new surfacing installed. Once the new surfacing is laid, the courts will need to sit undisturbed for a period of two to four weeks to allow for the color coating to adhere properly. New fencing and nets will be installed once the color coating has set.
FCPA anticipates the courts to be closed for up to four months, while these renovations and repairs are made. More information about the project and any updates to the construction schedule can be found at the Lewinsville Park Court Improvements website.
Comments or questions about the project may be sent to parkmail@fairfaxcounty.gov. You may also call the Public Information Office at 703-324-8662.