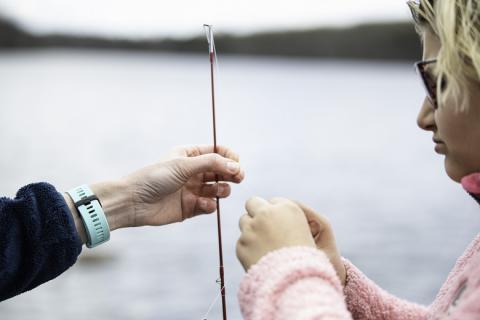 If you love to fish and you want to spend a day at Burke Lake Park, this program is just right for you! The Department of Wildlife Resources (DWR), in cooperation with the Fairfax County Park Authority (FCPA), is promoting a Free Fishing Day at Burke Lake Park on Saturday, June 4, 2022 from 9 a.m. until 3:30 p.m. You are bound to get hooked on this great activity.
This is the perfect opportunity for new anglers to learn all they need to know to make fishing a part of their life. DWR and Park Authority staff and volunteers will be on site with rods and reels, terminal tackle and bait, ready to instruct you on how to fish. All you need to do is show up. The event is absolutely free and no registration is required. Invite a family member or friend to get out and wet a line without having to purchase a fishing license.
Burke Lake is a 218-acre Department-owned public fishing lake. The lake serves as the main attraction to Burke Lake Park, a 650-acre park operated by the Fairfax County Park Authority. Burke Lake offers excellent fishing and features largemouth bass, muskellunge, wall-eye, channel catfish, bluegill and black crappie. Anglers may also catch white perch, yellow perch, redear sunfish and an occasional blue catfish.
Find out more about this state program at the DWR website. For more information about fishing at Burke Lake Park and other locations, visit the Park Authority's fishing webpage.
Burke Lake Park is located at 7315 Ox Road, Fairfax Station, Virginia. For more information, visit Burke Lake Park; or call 703-323-6600.