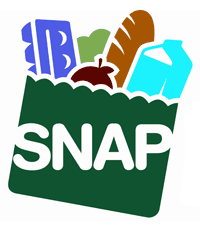 Supplemental Nutrition Assistance (SNAP) EBT cards can be used at select Fairfax County Farmers Markets. We match SNAP benefits so you can purchase fruits and vegetables for free!
Four Fairfax County Farmers Markets offer a SNAP Matching Program where you can double your SNAP Benefits. Thanks to partnerships with Virginia Fresh Match, FRESHFARM, Cornerstones, Arcadia and Britepaths, you can use your EBT card in the McCutcheon/Mount Vernon, Annandale, Reston and Lorton Farmers Markets. Simply swipe your EBT card for your desired amount and receive tokens worth double that value. For example, if you charge $20 to your card, you will receive $20 in 'SNAP' tokens and $20 in 'Match' tokens to spend in the market. 'SNAP' tokens can be spent on any SNAP-eligible item, while 'Match' tokens can only be spent on fresh fruits and vegetables.
Visit the Farmers Market SNAP page for more information on the SNAP Match program and a list of the SNAP locations. If you have questions, please contact Farmers Market Coordinator Caroline Hockenberry at Caroline.Hockenberry@fairfaxcounty.gov.
WEDNESDAYS
McCutcheon/Mount Vernon: SNAP ACCEPTED
April 20 – December 21 | 8 a.m. - Noon
Sherwood Library, 2501 Sherwood Hall Lane
Oak Marr
May 4 – November 9 | 8 a.m. - Noon
Oak Marr Recreation Center, 3200 Jermantown Road
Wakefield
May 4 – October 26 | 2 - 6 p.m.
Wakefield Park, 8100 Braddock Road
THURSDAYS
Annandale: SNAP ACCEPTED
May 5 – November 3 | 8 a.m. - Noon
Mason District Park, 6621 Columbia Pike
Herndon
April 28 – November 3 | 8 a.m. - 12:30 p.m.
Old Town Herndon, 700 Block of Lynn St., By the Red Caboose
FRIDAYS
McLean
May 6 – November 11 | 8 a.m. - Noon
Lewinsville Park, 1659 Chain Bridge Road
Kingstowne
May 6 – October 28 | 3 - 7 p.m.
In the Giant parking lot, 5870 Kingstowne Towne Center
SATURDAYS
Burke
April 16 – December 17 | 8 a.m. - Noon
VRE parking Lot, 5671 Roberts Parkway
Reston: SNAP ACCEPTED
April 30 – December 3 | 8 a.m. - Noon
Lake Anne Village Center, 1609-A Washington Plaza
SUNDAYS
Lorton: SNAP ACCEPTED
May 1 – November 20 | 9 a.m. - 1 p.m.
VRE parking lot, 8990 Lorton Station Blvd
For additional information, contact the Community Horticulture Office at 703-642-0128 or visit the Fairfax County Park Authority Farmers Markets webpage.