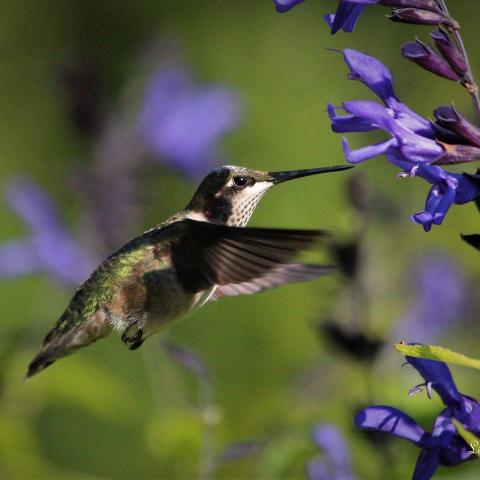 Hummingbirds are often described as the jewels of the avian world—brilliantly colored balls of energy that dart through summer sunshine, leaving trails of pollen and magic in their wake. The collective nouns for hummingbirds include "glittering," "shimmer" and "bouquet"—all of which aptly describe the wonder of these tiny creatures that migrate thousands of miles and fill our summers with joy.
For those who can't get enough of the beauty of hummingbirds, a group of local photographers are mounting an exhibition this summer at Green Spring Gardens in Alexandria. The title of the show is "A Celebration of Hummingbirds," and it will feature works from more than 20 area artists and will include hummingbirds from all over the Western hemisphere. The show runs from June 28 through Oct. 16, 2022, at the Historic House at Green Spring Gardens and is free to the public. The Historic House is open Wednesday through Sunday from noon until 4:30 p.m. However, the exhibit space may be closed on occasion for program use. Please call ahead to be certain the exhibit is open for viewing before you come.
An opening reception is planned for Sunday, July 10, 2022, from 1 to 3 p.m. at the Historic House. All profits from the sale of photos will be donated to the Friends of Green Spring, a nonprofit organization devoted to maintaining the gardens and furthering public education and outreach.
Green Spring Gardens is located at 4601 Green Spring Road in Alexandria. For more information, visit Green Spring's Art Exhibit web page, or call 703-642-5173.