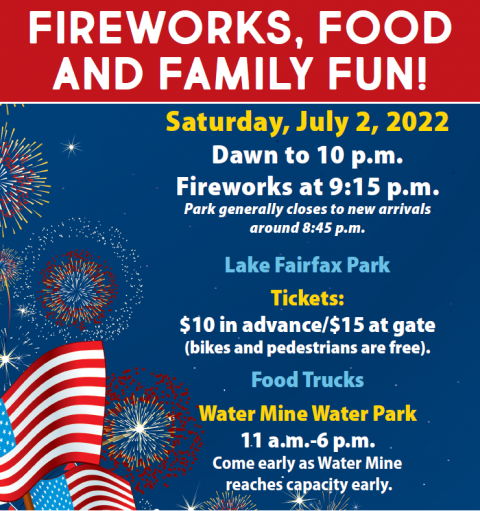 Here comes Independence Day and in advance, a great show and lots of family fun! Join the Fairfax County Park Authority at Lake Fairfax Park for a stunning fireworks display on Saturday, July 2, 2022. Ticketed entry begins at 10 a.m. The fireworks are expected to start shortly after 9 p.m.
Attendees are encouraged to arrive early to park and find a spot from where to view the show. We encourage all visitors to arrive no later than 8 p.m.
The Park Foundation stage will kick off at 1 p.m. with musical host and emcee Ted Garber. Other performers include: Bach to Rock America's Music School, Sonic Boom, Rosebud Ireland and Cindy Martin. There will also be a beer garden hosted by Hard Times, yard games and more!
Food trucks will be on site throughout the day, and all picnic areas will be offered on a first-come-first-served basis.
Food trucks (starting at noon):
Momo's and More
El Chef Latino
Island Refreshments
Hard Times Cafe (Festival Set Up)
Jay Vending
The Water Mine Family Swimmin' Hole Water Park will be open from 11 a.m. until 6 p.m. However, come early as the facility reaches capacity quickly. Visit the Water Mine website for more information. 
Tickets are $10 in advance and $15 at the gate. Bikes and pedestrians are free. The Fairfax County Park Foundation is a sponsor of the fireworks.
Lake Fairfax Park is located at 1400 Lake Fairfax Drive in Reston, Virginia. For more information, visit the Lake Fairfax Park website or call 703-471-5415.