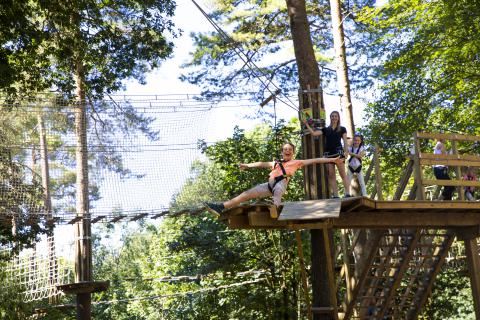 Just like Tarzan and Jane, the partnership between Go Ape and the Fairfax County Park Authority is one of those perfect unions.
If you love swinging through the trees, there is great news: Go Ape was recently selected as one of the top aerial adventure parks in North America in USA Today's 10Best. Readers ranked Go Ape Zipline & Adventure Park in the top five best aerial adventure operators for the second year running earlier this month.
That means stepping out of your comfort zone and adding a bit of treetop adventure just got better than ever for Fairfax County residents.
One of Go Ape's most popular locations is Go Ape Springfield, situated in the wooded area next to South Run Rec Center. To continue improving on our adventurous activities, Go Ape has recently upgraded the treetop course flow and experience, including dual zip line options on the Treetop Journey and new crossings on the Treetop Adventure.
Take the adventure to new heights at 7550 Reservation Drive, Springfield, Virginia. For information about a host of available adventures, visit the Go Ape website.