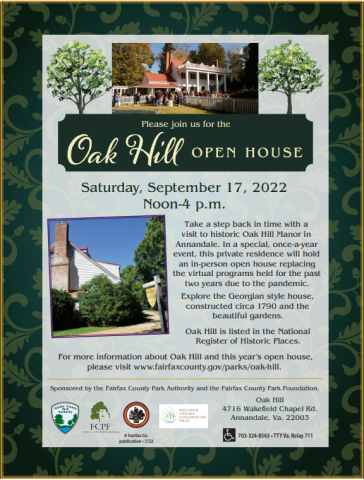 Take a step back in time with a visit to historic Oak Hill Manor in Annandale. In a special, once-a-year event, this private residence will hold an in-person open house on Saturday, Sept. 17, 2022 from noon to 4 p.m. For two years during the pandemic, the open house was held virtually.
Parking will be off site at 4414 Holborn Ave. at the Nancy Sprague Technology Center in Annandale. A free shuttle bus service will provide visitors with convenient transportation. Limited onsite handicapped accessible parking is available at the site, located at the side entrance at 4716 Wakefield Chapel Road.
This impressive, Georgian style house was constructed circa 1790 on the historic Ravensworth tract by Richard Fitzhugh, a descendant of one of the first land-grant holders in Northern Virginia. The 1940s brought renovations to the house by renowned restoration architect Walter M. Macomber in the Colonial Revival style. The name "Oak Hill" comes from two large oak trees on the property.
In 2004, Oak Hill was listed in the National Register of Historic Places. In the same year, the Fairfax County Park Authority, Fairfax County Board of Supervisors, the Northern Virginia Conservation Trust and Seville Homes agreed to a historic and conservation easement to preserve the privately owned Oak Hill home and property, including 200-year-old boxwoods. Since the property was saved, the community has been invited to visit every year for house tours of the first floor and the beautiful grounds. Outdoor interpretive programs help educate visitors about the life and times at Oak Hill, including the enslaved individuals who worked at the property and historic incidents from the Civil War.
This Open House is made possible by the efforts of the Fairfax County Park Foundation, the Fairfax County Park Authority, Northern Virginia Conservation Trust and the Fairfax County Board of Supervisors.
For more information about Oak Hill and this year's event, please visit the Oak Hill website.