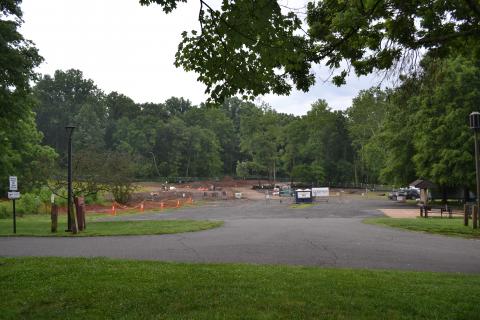 A temporary closure of the parking lot across from Walney Pond in Ellanor C. Lawrence Park will result in long-term benefits to the environment, as a green design is implemented at the new facility under construction located at 5301Walney Road in Centreville. It's all part of the plan for the Stewardship Education Center set for completion in early 2023.
The parking lot and entrance for Cabell's Mill will be closed from Aug. 8 through Oct. 7, 2022, for construction. Work related to the new Stewardship Education Center will include a larger parking lot that will include features and a design that will better control and filter water from rain and runoff from the adjacent neighborhood. These improvements are not only best practices for the facility's green design but will ensure a healthier Walney Pond, since it is surface-fed. Improvements include porous pavers for the parking spaces, planting trees within the lot to reduce heating and low vegetation to enhance the new water channeling swales.
For more information about the Stewardship Education Center, visit the Sully Woodlands Stewardship Education Center website.
For more information about the closure, call the Walney Visitor Center at 703-631-0013.