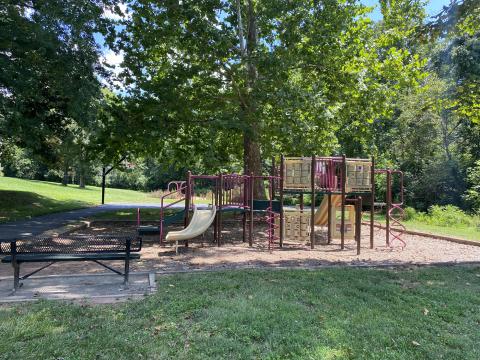 The Fairfax County Park Authority will soon begin to replace the playground at Horsepen Run Stream Valley Park located on Burchlawn Street in Herndon, Virginia. The playground will close on Sept. 16, 2022. Demolition of the existing playground and construction of the new facility will begin the week of Sept. 19, 2022 and is anticipated to be completed by the end of November. A safe, new playground will open this December.
Although the equipment at this location has been repaired or partially upgraded since the original installation in the 1990s, the equipment has now exceeded its life expectancy and no longer meets current playground safety guidelines. This $180,000 project includes design and layout of replacement equipment, demolition of the existing equipment and related features, installation of the new equipment, installation of a safety surface, border, subsurface drainage and related amenities. The project will also improve the accessible route from the Fairfax County Department of Transportation trail to the playground.
Construction access to the site will be from Ashdown Forest Drive. Residents should expect construction traffic entering and exiting the park entrance at that location.
For more information, please contact Project Manager Mohammad Mahboob at Mohammad.Mahboob2@fairfaxcounty.gov or call at 703-324-8744.