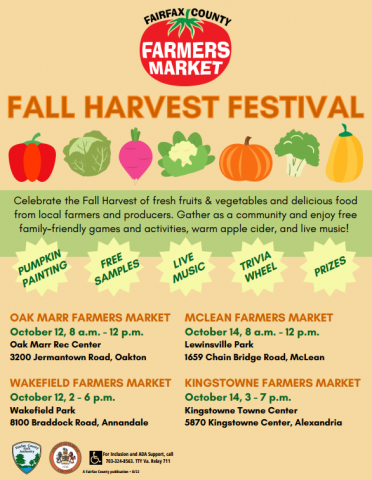 Join the Fairfax County Farmers Markets for the Fall Harvest Festival at four FCPA Farmers Market locations. Celebrate the fall harvest of fresh produce, such as squash, greens and broccoli; find the last of the summer harvest; and enjoy delicious foods from local farmers and producers. Children and families are invited to paint pumpkins, play fall harvest bingo and spin the trivia wheel for a prize! Enjoy live music and free samples of warm apple cider as we gather to celebrate the fall harvest.
This activity is free and open to the public, but supplies are limited. Our markets are strictly producer-only meaning that our vendors must grow or make from scratch everything they bring to market. Shopping at the farmers market is a great way to celebrate all that the season has to offer, while supporting local farmers, businesses and communities.
Visit the farmers market website to learn more about the Fall Harvest Festival, and to find the complete FCPA Farmers Market schedule.
OAK MARR FARMERS MARKET
Oct. 12, 2022, from 8 a.m. - noon
Oak Marr Rec Center, 3200 Jermantown Road, Oakton
WAKEFIELD FARMERS MARKET
Oct. 12, 2022 from 2 - 6 p.m.
Wakefield Park, 8100 Braddock Road, Annandale
MCLEAN FARMERS MARKET
Oct. 14, 2022 from 8 a.m. - noon
Lewinsville Park, 1659 Chain Bridge Road, McLean
KINGSTOWNE FARMERS MARKET
Oct. 14, 2022 from 3 - 7 p.m.
Kingstowne Towne Center, 5870 Kingstowne Center, Alexandria
For additional information, contact the Community Horticulture Office at 703-642-0128 or visit the Farmers Market website.