UPDATE, Nov. 3, 2022: Please note that the project has been completed and the trail is open.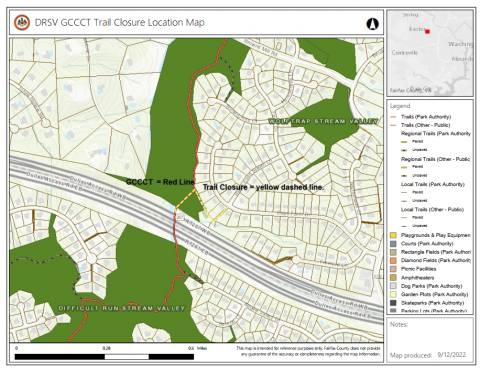 In just about two weeks, a Fairfax County Park Authority trail improvement project will get underway on the Gerry Connolly Cross County Trail in Difficult Run Park near the Dulles Access Road. On or around Sept. 22, 2022, site prep work will begin on a trail maintenance project that will alleviate the issue of constant standing water on the trail, reinforce the trail to protect it from washouts, and overlay the existing trail.
Vendor Accubid will mobilize on site on and begin the installation of the erosion and sediment controls, as well as staging some equipment and materials. Due to ongoing wet working conditions and the potential for more rain, we anticipate the trail in this section to remain closed for approximately four weeks. Project timing is subject to change based on weather conditions.
For more information, contact Construction Maintenance Project Manager Karen Devor of the FCPA Park Operations Division at Karen.Devor@fairfaxcounty.gov.