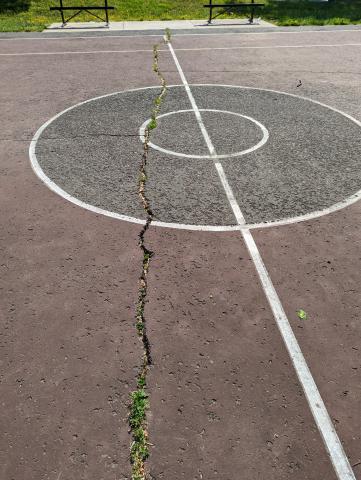 Beginning next week, site prep work will start on a Fairfax County Park Authority project that will replace the asphalt surfacing, color coating, fencing and gates, net posts, footers, and nets at the Borge Street Park basketball courts. This park is located at 3030 Borge Street in Oakton, Virginia.
Athletic court vendor ATC will mobilize on site the week of Sept. 19, 2022 to begin the demolition of the existing basketball goals. In the six weeks to follow, goal systems and footers will be installed, and the asphalt surface will be milled and removed from the site. Stone will also be added and graded. New asphalt will be laid. Once this occurs, the courts will need to sit undisturbed for a period of two to four weeks to allow for appropriate curing and to allow the latex color coating to adhere properly. The new goal systems and nets will be hung once the color coatings have set up and the courts are ready to open again.
We anticipate the basketball courts at this location will be closed for up to six weeks to account for the resurfacing process and potential inclement weather. We ask the public's cooperation during this closure period.
For more information, contact Construction Maintenance Project Manager Karen Devor at Karen.Devor@fairfaxcounty.gov.