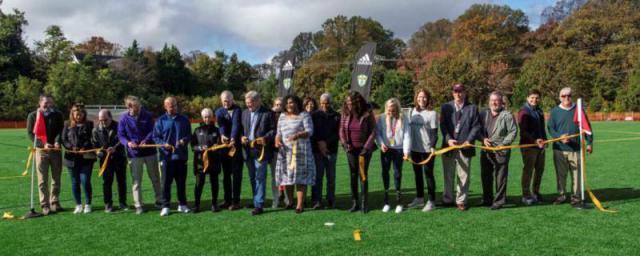 The Fairfax County Park Foundation (FCPF) will honor McLean Youth Soccer Association (MYS) with a 2022 Eakin Philanthropy Award. This honor recognizes ongoing outstanding contributions to FCPA parks, including the Holladay Field project made possible through a partnership with Leidos and the Embassy and Ambassador of the United Arab Emirates.
McLean Youth Soccer Association has an exemplary record of long-standing commitment to local parks. Over the years, MYS contributed millions of dollars to improve sports facilities.
In 2021, completion of a new synthetic turf project was celebrated at Holladay Field next to Spring Hill Elementary. The new field includes a full-sized rectangular soccer field available for football, men's and women's lacrosse, field hockey and small-sided soccer. Landscape improvements, including two underground storm water management facilities, a bleacher pad, access trail and landscape improvements were also part of the project.
Funding for the project was made possible through voter-approved Park Bonds and contributions from the Ambassador to the U.S. Yousef Al Otaiba of the United Arab Emirates and Roger Krone, CEO of Leidos. Both are soccer enthusiasts.
MYS honored these partners by sponsoring a commemorative bench through the Park Foundation, recognizing the Embassy of the United Arab Emirates and Leidos for their very generous donations.
Also considered in these award deliberations is another MYS-funded project in McLean. The need for clean restrooms and shelter from inclement weather for the visitors at Lewinsville Park inspired another significant investment for parks. An initial $200,000 contribution to the Park Foundation from MYS will enable the Park Authority to design a restroom and storage building. MYS has agreed to provide opera-tional costs, including annual cleaning, repairs and utility costs. This agreement demonstrates how improvements are possible through a public-private partnership with Fairfax County parks.
The Fairfax County Park Foundation supports the Park Authority by raising private funds, obtaining grants and creating partnerships that supplement tax dollars to meet community needs for park land, facilities and services. It established the Eakin Philanthropy Award to recognize visionary, financial and material contributions that significantly enhance Fairfax County parks. The award is named in honor of LeRoy Eakin Sr., who donated 14 acres of land in 1951 that became Fairfax County's first park.
This year's Eakin winners will be honored at the virtual Elly Doyle Park Service Award ceremony in November. For more information, contact the Public Information Office at parkmail@fairfaxcounty.gov.