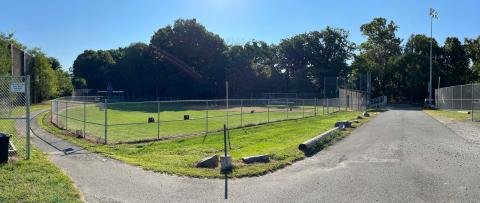 The Fairfax County Park Authority has initiated a master plan amendment process for Trailside Park, a 6.6-acre local park located at 6000 Trailside Drive in Springfield, Virginia. The park is nestled to the southeast of the I-95/I-495 interchange and was fully developed with diamond ball fields when it was donated to the Park Authority in 1972. The park supports primarily active recreational opportunities, including local youth and adult league play on two lighted diamond fields and two unlit fields.
The main objective in amending this master plan is to introduce athletic field lighting to all the fields. The added lighting will allow extended evening use of the diamond fields during the fall and spring months and improve overall safety of the park.
The Park Authority is inviting public comment on this proposed plan amendment for a 30-day period beginning Sept. 28, 2022. If you would like to provide comments or feedback, please send these by email to V2323@PUBLICINPUT.COM. Additional comment will be taken during the Park Authority Board's regular meeting scheduled for Wednesday, Nov. 9, 2022. To sign up to speak at the Board Meeting, please send your request to Parkmail@fairfaxcounty.gov or call 703-324-8662. Currently, Park Authority Board meetings are being held virtually.
For specific information about the Park Authority Board Meetings and how to make a comment at board meetings, please visit the county Board and Committee meetings webpage.

For more information about the master plan amendment, please visit the Trailside Park Master Plan Amendment project webpage.