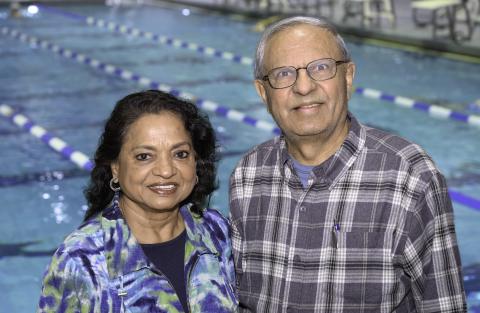 With less than one month to go before the virtual Elly Doyle Park Service Awards, the Fairfax County Park Authority staff team is busy finalizing materials for the approaching watch party, ordering awards, reviewing videos, preparing gift baskets for outstanding volunteers and announcing winners in all categories.
This year, the Park Authority Board will present the inaugural Justice, Equity, Diversity and Inclusion Award, which was established this past summer. The purpose of the award is to recognize significant and tangible contributions made by individuals, organizations or businesses that enhance diversity systemwide and foster a culture of inclusion in parks.
The first recipients are Pravinchandra and Hansaben Dave, who together have provided tremendous help to the Adapted Aquatics program at South Run Rec Center. Pravinchandra has volunteered with Adapted Aquatics for at least 10 years, and Hansaben joined some seven years ago.
As assistant swim coaches for children with disabilities, they have demonstrated their strong support for all types of people who want to learn to swim. Because of their patience, gentleness and praise, every child who trains with them wants to keep them as their coaches. Children who are nonverbal often point to them when asked who they want to swim with, displaying a strong sense of trust and comfortable partnership.
Both show up each week, year-round to help, and they can be relied upon to take on whatever needs to be done. They have contributed more than 100 hours of volunteer time in the program this year and more than 900 hours throughout their tenure.
Pravinchandra and Hansaben Dave will be honored Friday, Nov. 18, 2022 at 7 p.m. at the virtual Elly Doyle Park Service Awards. To find out how to join this virtual watch party, contact the Park Authority at Parkmail@fairfaxcounty.gov.