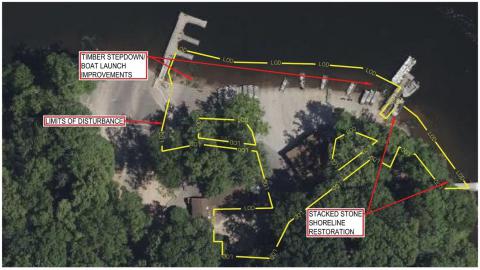 The Fairfax County Park Authority in cooperation with the Virginia Department of Wildlife Resources (DWR) will soon begin work on the Burke Lake Park Marina Maintenance Project, which will force closure of the Fairfax County Park Authority marina area during the construction period.
A controlled drawdown of Burke Lake to a target of 2 feet below normal pool elevation will begin this month. The lake will dewater at a rate of 2 to 4 inches per day until it reaches the desired elevation. Current projections estimate that the lake will reach the 2-foot drop (from normal pool elevation) on or before Nov. 19, 2022. This projection is based on little to no rainfall in the coming weeks and subject to change based on fluctuating inflow levels.
After the 2-foot target drawdown level has been reached, it is anticipated that the lake will remain at the lower elevation through the end of March 2023. The lake will return to its normal pool elevation through natural runoff. The rate at which the lake level will rise and date that the lake will return to its normal pool elevation is contingent on precipitation.
Contractors will be mobilizing on site shortly with active construction activities beginning in December 2022. The project includes stabilizing the marina beach area between existing floating docks, armoring approximately 90 LF of shoreline, drainage improvements around and adjacent to existing boathouse and restroom buildings, and related site work. Contingent on the weather, the marina is expected to reopen at the end of April 2023. The project will cost approximately $1.5 million and is funded by voter-approved park bonds.
Burke Lake Park visitors should expect impact to recreational activities from the drawdown of Burke Lake. State fishing piers and boat launch area are expected to remain open, but the launch area may not be accessible to trailer boats. Boaters, canoeists and kayakers in the lake should use caution, as numerous obstructions will be exposed or may be present just under the water's surface.
Burke Lake is a 218-acre public fishing lake owned by the Virginia Department of Wildlife Resources. It is located in Burke Lake Park, which is operated and owned by the Fairfax County Park Authority. For more information about this project, please email parkmail@fairfaxcounty.gov.
Burke Lake Park is located at 7315 Ox Road, Fairfax Station, Virginia. For more information, visit Burke Lake Park or call 703-323-6600.