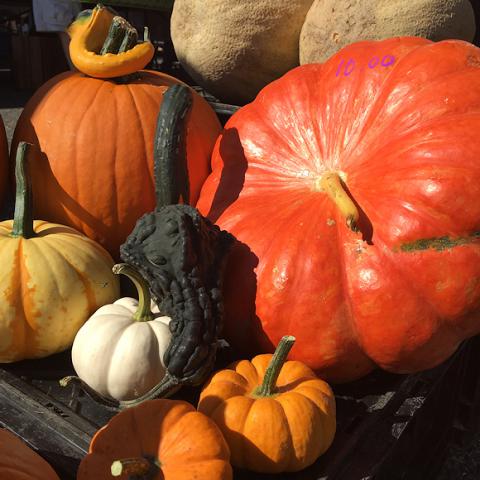 It may be getting a bit colder, but there is great news for those who love farmers markets. The Fairfax County Farmers Markets have extended the season at three popular market locations. The Reston Farmers Market will remain open until Dec. 3, 2022; the Burke Farmers Market is open until Dec. 17, 2022; and the McCutcheon/Mt. Vernon Farmers Market will be open until Dec. 21, 2022.
Shopping at your local farmers market through the fall and into the winter is a great way to celebrate all that the season has to offer, while supporting local farmers, businesses, and communities.
The Fairfax County Farmers Markets will welcome a handful of new vendors to the markets during the extended season. Our farmers and producers will continue to bring an abundance of winter squash, greens, apples, potatoes, fresh-baked breads, locally raised meats, and unique prepared foods. Extended season vendors will bring new products, such as macaroons, bagels, kombucha, Moroccan sauces and more. Be sure to visit Burke, Reston and McCutcheon/Mt. Vernon to support your favorite vendors through the season, and to welcome our new vendors.
The Park Authority operates 10 markets throughout Fairfax County. Visit the Farmers Market website to find the complete FCPA Farmers Market schedule and list of locations:
Burke
Saturdays, April 16 – Dec. 17 | 8 a.m. - Noon
VRE parking Lot, 5671 Roberts Parkway
Reston
Saturdays, April 30 – Dec. 3 | 8 a.m. - Noon
Lake Anne Village Center, 1609-A Washington Plaza
McCutcheon/Mount Vernon
Wednesdays,  April 20 – Dec. 21 | 8 a.m. - Noon
Sherwood Library, 2501 Sherwood Hall Lane
For additional information, contact the Community Horticulture Office at 703-642-0128.