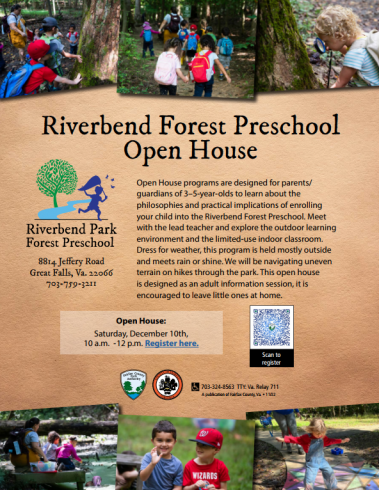 Riverbend Park Forest Preschool will hold an Open House on Saturday, Dec. 10, 2022, from 10 a.m. until noon. This unique school is operated by the Fairfax County Park Authority at Riverbend Park located at 8814 Jeffery Road in Great Falls, Virginia.
This open house is designed for parents and guardians of children 3 to 5 years old to learn about the philosophies and practical implications of enrolling your child into the Riverbend Forest Preschool.
Attendees will have the chance to meet with the lead teachers and director to explore the outdoor learning environment and the limited use indoor classroom. Please dress for the weather, as this program is held mostly outside and meets rain or shine. We will be navigating uneven terrain on hikes through the park. This open house is designed for adults to gather information and you are encouraged to leave little ones at home.
For more information about the open house, please call 703-759-3211.
Riverbend Park is located at 8700 Potomac Hills St., Great Falls, Virginia. For more information, visit Riverbend Park or call 703-759-9018.