The Fairfax County Park Authority, joined by Board of Supervisors Chairman Jeff McKay and dozens from surrounding communities celebrated National Trails Day in a big way at Lake Accotink Park. The occasion marked the completion of the Accotink Creek Crossing, a 325-foot elevated concrete pedestrian crossing over the dam outfall in Lake Accotink Park and the reopening of a nearly 4-mile-long trail loop around Lake Accotink in Springfield.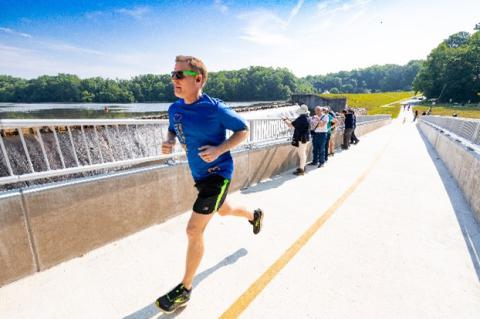 The Lake Accotink Trail Loop is one of the most heavily used trail facilities owned and maintained by the Fairfax County Park Authority, serving park visitors from the surrounding community and from throughout the region as it is interconnected with the Gerry Connolly Cross-County Trail. The original trail, crossing the outfall at water level, was often susceptible to sudden and damaging flooding during major storm events. On two occasions within the past five years, the trail was out of commission for extended periods for extensive reconstruction work. This project not only moves the trail above the threat of flooding, it provides an accessible connection to the entire trail loop for hikers and bikers of all ages and abilities and provides a new elevated vantagepoint from which to view the waterfront park.
"It's in our nature to be in nature," remarked Park Authority Director Jai Cole. "Hiking and biking along are some of the most convenient and best ways to do that, which makes it all the more fitting that we celebrate the completion of this project on National Trails Day. The Park Authority is steward for more than 335 miles of trails within our system that traverse all kinds of landscapes – forests, creeks, rivers, ponds, rocks, hills, and suburban and urban communities. We're fortunate to live in a community where there is such diversity to enjoy along the trail, and the Accotink Trail Loop is one such gem."
Following a ribbon-cutting ceremony, trail-goers enjoyed a day filled with self-guided geocaching, a guided bike tour, and guided hikes focusing on the rich natural resources and history along the trail. The event was made possible with support from the Friends of Lake Accotink Park, Trails For Youth and the Fairfax County Park Foundation.
For more information about trails in Fairfax County, visit the Trails website.