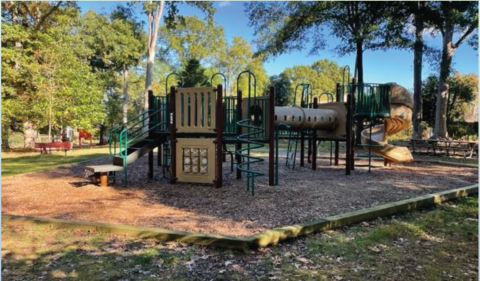 The Fairfax County Park Authority Board has approved matching grant funding in the amount of $13,000 to supplement community contributions toward installing swings at the playground within Gilbert S. McCutcheon Park located in the Mount Vernon District. Funds were awarded through the Park Authority's Mastenbrook Volunteer Matching Fund Grant Program. The applicant, the Villamay Community Association, will also contribute $13,000 to complete this project.
The existing playground, developed in partnership with the community in 2004, did not include swings in the project scope due to limited funding. The proposed project will include the purchase and installation of a two-bay swing set with four swings serving all ages and abilities.
The project will be managed by the Fairfax County Park Authority and is expected to be completed in spring 2024.
The Mastenbrook Volunteer Matching Fund Grant Program encourages public-private ventures that improve Fairfax County parks and park facilities. It is designed to fill a gap between limited bond funding and the community's desire for new or improved park facilities by assisting volunteer, community and user groups in improving park facilities by matching funds and in-kind services.
Since 1999, the program has awarded approximately $2.1 million in grants for projects valued at more than $16.3 million. Grants ranging from a few hundred dollars to the maximum of $20,000 have funded such projects as trail improvements, construction of gazebos and shelters and athletic field improvements.
For more information about the Mastenbrook Matching Funds Grant Program, visit the Mastenbrook Grants website.