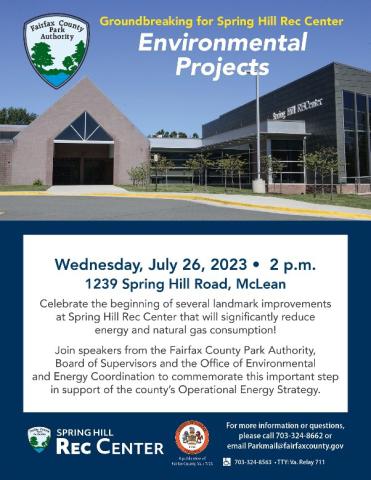 The Fairfax County Park Authority, in partnership with the Office of Environmental and Energy Coordination, is pleased to announce their latest energy improvement project at the Spring Hill Rec Center in the Dranesville District. Fairfax County Board of Supervisors Chairman Jeff McKay and Supervisor John Foust will join us on Wednesday, July 26 at 2 p.m. at Spring Hill Rec Center to break ground on the work, which supports sound environmental policies and practices outlined in the Countywide Strategic Plan.
The project represents a significant step forward toward meeting the county's goals for carbon neutrality in its facilities, fleet vehicles and operations, including 50% of county electricity from renewable sources by 2040, as outlined in the county's Operational Energy Strategy. Improvements will include the replacement of pool dehumidification units, the installation of solar photovoltaic arrays, geothermal HVAC system, LED lighting upgrades and improvements to building automation systems. The project is expected to reduce electric consumption by 19% and gas consumption by 29% annually.
The work will be coordinated by CMTA, Fairfax County's energy service company contractor. Fairfax County is working with CMTA to make energy, lighting and mechanical upgrades at 21 facilities countywide, including energy efficiency upgrades already completed at Cub Run Rec Center, South Run Rec Center and the City of Fairfax Regional Library.
For more information, please contact the Public Information Office at Parkmail@fairfaxcounty.gov.
Spring Hill Rec Center is located at 1239 Spring Hill Road in McLean, Virginia. For more information, visit Spring Hill Rec Center or call 703-827-0989.