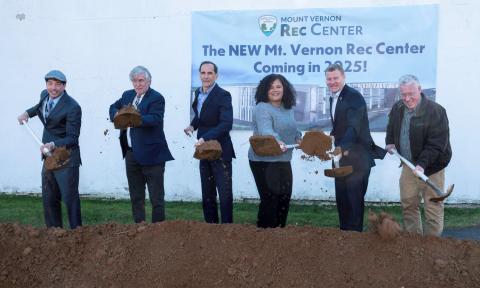 A groundbreaking ceremony was held on Wednesday, Jan. 18, 2023, for the expansion and renovation of the Mount Vernon Rec Center in Alexandria, Virginia, one of the county's oldest and most popular Rec Centers. The Fairfax County Park Authority (FCPA) was joined by several elected officials, project partners, staff and members of the community to celebrate the center's more than 40 years of service to the community, comprising countless memories, friendships and experiences shared.
"Fairfax County Rec Centers are much more than just a gym," said Park Authority Executive Director Jai Cole. "These are places where friends, families and communities come together; where people of all ages enjoy activities that build resilience, confidence and character; and where talents and skills are strengthened, and a sense of community and service are nurtured."
Many of these memories and sentiments of an appreciative community were memorialized on the glass surrounding the ice rink on the facility's final day of operation – a common tradition among the skating community. The tribute represented a strong statement to the importance of the Rec Center for many, both skaters and non-skaters.
"If these walls could talk, we might hear the story of a four-time adult national champion figure skater, Beth Delano, who spent countless hours on the ice developing her talent – remembering fondly her best routine ever on this very ice," said Mount Vernon District Supervisor Dan Storck. "You might also hear about a very special aquatics instructor, Laura Nelson-Bolick, who has led water exercise here for more than 30 years – but even more importantly, created an environment of social engagement that shaped meaningful friendships and activities for participants." 
On Dec. 31, 2022, the Mount Vernon Rec Center closed its doors in preparation for a major renovation and expansion expected to last two years. The project will include a complete renovation of the current building and mechanical systems, as well as a 75,000-square-foot expansion. FCPA staff have been working diligently to transition programs and activities to alternate sites and expand capacity at other nearby Rec Center locations to accommodate community needs and interests during the closure.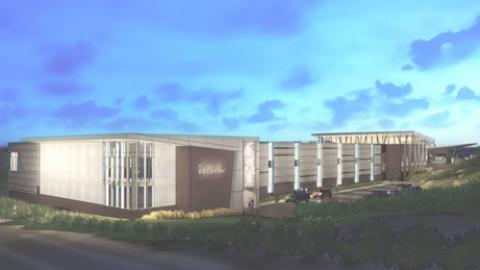 When complete, the state-of-the-art facility will include two NHL-sized ice rinks, a two-level dedicated fitness area, an elevated indoor track, swimming pool, climbing wall and multi-purpose rooms. Anticipated completion is scheduled in 2025.
The project budget is $74 million, with funds coming from previous voter-approved Park Bonds and additional funding provided through the American Recovery Plan Act.
For more information about the Mount Vernon Rec Center Renovation and Expansion project, visit the Mt. Vernon Rec Center Renovation and Fitness Addition webpage.