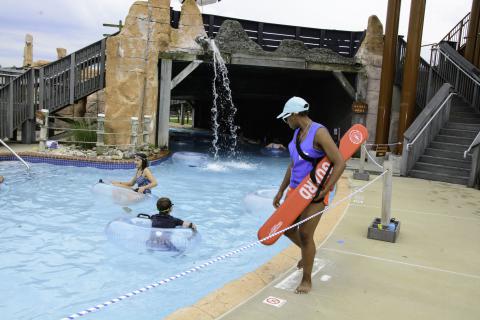 The Fairfax County Park Authority (FCPA) Water Mine Family Swimmin' Hole offers a wide range of opportunities to earn some cash this summer! Although the pool season is a few months away, FCPA has started its search for the more than 200 team members it takes to run the popular splash park in Reston, Virginia.
From lifeguards and park attendants to cashiers and security staff, the Water Mine has a variety of job opportunities from which to choose. Full position descriptions, lists of job duties and qualifications can be found at the Water Mine employment website. Pay is competitive and ranges include:
Lifeguards: starting at $16 per hour
Park Attendants and Cashiers: starting at $13 per hour
Security Staff: starting at $17 per hour
Leadership Staff: starting at $19 per hour
Applications are currently being accepted at the Water Mine employment website. Additionally, interested applicants may begin to register for a virtual interview session held via Zoom.
Sessions are scheduled for Feb. 15 and March 7, 2023. Preregistration is required, and applicants are encouraged to sign up in advance. All interviewees must be present in the online meeting room beginning at 5 p.m.
Register for the Wednesday, Feb. 15, 2023 session.
Register for the Tuesday, March 7, 2023 session.
FCPA will also be hosting several "all-in-one" open hiring sessions at the Oak Marr Rec Center and the Water Mine beginning in February. A complete list of dates and times will be posted at the Water Mine employment website. These sessions allow applicants to interview, complete a swim test (lifeguards only) and complete hiring paperwork if a job is offered. Applicants should bring their banking information, Social Security card, proof of vaccination against COVID-19 and an unexpired photo ID to complete hiring paperwork.
For information, contact the Water Mine at FCPAWaterMine@fairfaxcounty.gov or call 703-246-5933.
The Water Mine is located at 1400 Lake Fairfax Drive, Reston, Virginia. For more information, visit the Water Mine Family Swimmin' Hole or call 703-246-5929. 
Oak Marr Rec Center is located at 3200 Jermantown Road, Oakton, Virginia. For more information, visit Oak Marr Rec Center or call 703-281-6501.