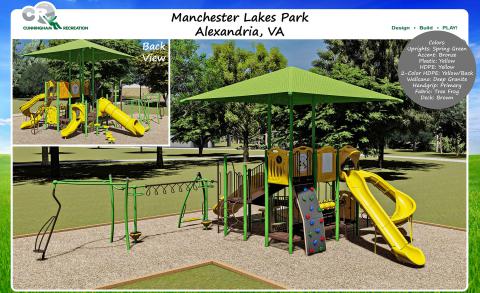 The Fairfax County Park Authority (FCPA) is set to replace the playground equipment at Manchester Lakes Park in the Franconia District. The existing equipment has reached the end of its expected lifecycle and is being replaced as a part of the FCPA playground replacement program.
This project includes the demolition and removal of the existing playground, drainage work, installation of new playground equipment and updating trail connections to meet current Americans with Disabilities Act standards. The project will cost approximately $150,000 and is funded with 2020 Park Bond money.
Active construction is anticipated to be completed by the end of March 2023. Residents should expect occasional construction traffic entering and exiting the park access road via Zohra Court. Construction hours will be from 8 a.m. to 4 p.m. weekdays and 9 a.m. to 5 p.m. weekends.
Manchester Lakes Park is located at 6775 Beulah St., Alexandria, Virginia. For more information about the park project, please contact project manager Pat Rosend at patricia.rosend@fairfaxcounty.gov or call 703-324-2387.