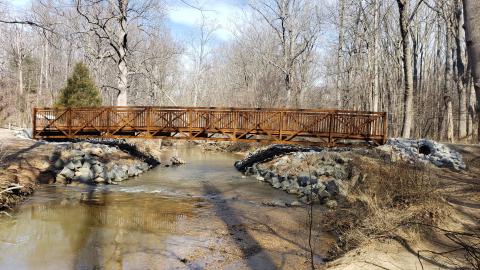 The Fairfax County Park Authority (FCPA) will soon begin to install a new pedestrian bridge in the section of Sugarland Run Stream Valley Park between Heather Down Drive and Eddyspark Drive. This replaces a bridge that was removed 15 years ago and will reconnect the neighborhood along Heather Down Drive with the Sugarland Run Stream Valley Trail. Construction activities are expected to begin in early March.
This project includes the demolition and removal of the remaining structures from the earlier bridge, installation of a prefabricated pedestrian steel bridge, construction of 10-foot-wide connecting approaches to the bridge, and related clearing and site work. The project will cost approximately $740,000 and is being funded with 2020 Park Bond monies.
Residents may expect occasional construction traffic entering and exiting the park access road via Eddyspark Drive and Heather Down Drive. Construction hours will be from 7 a.m. to 5 p.m. during weekdays and 9 a.m. to 5 p.m. on weekends. Construction is anticipated to be completed by late summer 2023, weather permitting.
Sugarland Run Stream Valley Trail is part of the countywide trail system. The trail runs from Sugarland Road to the Town of Herndon line. The main trail is approximately 3 miles long with several side trails and neighborhood connections, providing an additional 3 miles of trails. The trail is paved for its entire length.
For more information about this project, please contact the project manager Sayonara Aguilera at Sayonara.Aguilera@fairfaxcounty.gov or call 703-324-8534.