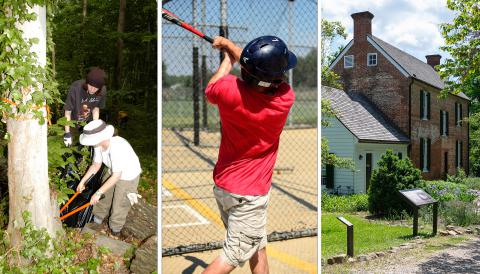 The Fairfax County Park Authority (FCPA) Board voted to approve three Mastenbrook Volunteer Matching Fund Grant Program grants totaling $31,340 to support community-led restoration efforts at three parks and expansion of the batting facility at Chantilly Park. The total combined cost for these projects is estimated at $71,800. Approved projects include:
Churchill Road and Lewinsville Parks ($4,003)
The McLean Trees Foundation (MTF) has planted and maintained 28 native trees and managed the removal of invasive plant species in the Churchill Road and Lewinsville parks. Progress on these efforts has been slowed by the persistent regrowth of invasive species. MTF has proposed to launch a more sustainable chemical treatment plan to be implemented by an FCPA-managed contractor to accelerate the habitat restoration. The funds will be augmented by a cash donation and in-kind volunteer services totaling $4,003 contributed by the MTF.
Chantilly Park Batting Facility Expansion ($20,000)
The Chantilly Youth Association (CYA) has requested $20,000 to replace the two existing batting cages at Chantilly Park and expand the batting practice area to three hitting stations, while retaining four soft-toss stations for additional practice space. The CYA will contribute $29,169 for the project.
Family Garden Restoration at Colvin Run Mill ($7,337)
The Friends of Colvin Run Mill has requested matching funds to restore the Family Garden site immediately adjacent to the recently restored Miller's House at Colvin Run Mill. The project will include the cleaning of the area, repair of the stone border, removal of invasive plants and poison ivy, planting, mulching and installing interactive markers linking visitors to natural history information related to the site. The Friends of Colvin Run Mill will contribute $7,338 to complete the funding for the project.
The Mastenbrook Volunteer Matching Fund Grants Program encourages public-private ventures that improve Fairfax County parks and park facilities. It is designed to fill a gap between limited bond funding and the community's desire for new neighborhood facilities by assisting volunteer and user groups in improving county facilities by matching funds and in-kind services.
Since 1999, the program has awarded approximately $2.03 million in grants for projects valued at more than $15.5 million. Grants ranging from a few hundred dollars to the maximum of $20,000 have funded such projects as trail improvements, construction of gazebos and shelters, and athletic field improvements.
For more information or to apply for a matching grant, visit the Mastenbrook Grants website or call 703-324-8470. Applications can be found at the Mastenbrook Volunteer Matching Grants Program webpage.