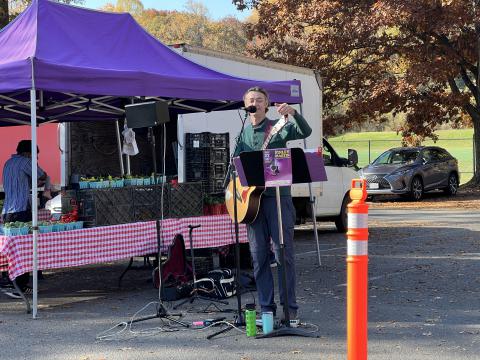 The Fairfax County Farmers Markets are seeking musicians to perform at local farmers markets. Musicians and singers are invited to apply online through the Music at Market website.  
The FCPA Farmers Market program provides residents access to locally grown products and creates market opportunities for area farmers and food producers. Live performances help create a fun and relaxing atmosphere for customers, vendors and volunteers. Farmers markets are open Wednesdays through Sundays from April until December each year. Musicians are welcome to apply throughout the entire season. 
For more information about farmers markets, including music, programs and volunteer opportunities, visit the Farmers Markets website, email FCPAFarmMarkets@fairfaxcounty.gov or call 703-642-0128. The Fairfax County Park Authority operates 10 farmers markets across the county at the following locations: 
Wednesdays 
McCutcheon/Mount Vernon 
2501 Sherwood Hall Lane, Alexandria 
April 19 to Dec. 20, from 8 a.m. to Noon 
 
Oak Marr 
3200 Jermantown Road, Oakton 
May 3 to Nov. 8, from 8 a.m. to Noon 
 
Wakefield 
8100 Braddock Road, Annandale 
May 3 to Oct. 25, from 2 to 6 p.m. 
Thursdays 
Annandale 
6621 Columbia Pike, Annandale 
May 4 to Nov. 2, from 8 a.m. to Noon 
 
Herndon 
700 Block of Lynn Street (by the red Caboose) 
May 4 to Nov. 9, from 8 a.m. to 12:30 p.m. 
Fridays 
McLean 
1659 Chain Bridge Road, McLean 
May 5 to Nov. 17, from 8 a.m. to Noon 
 
Kingstowne 
5870 Kingstowne Center, Alexandria 
May 5 to Oct. 27, from 3 to 7 p.m. 
Saturdays 
Burke 
5671 Roberts Parkway, Burke 
April 22 to Dec. 16, from 8 a.m. to Noon 
 
Reston 
1609-A Washington Plaza, Reston 
April 29 to Dec. 2, from 8 a.m. to Noon 
Sundays 
Lorton 
8990 Lorton Station Blvd., Lorton 
May 7 to Nov. 19, 9 a.m. to 1 p.m.