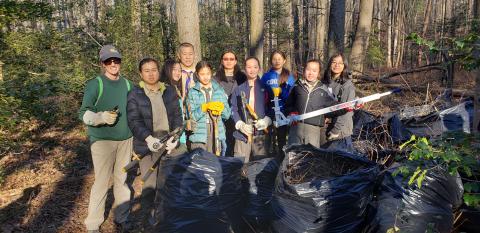 Invasive plants create a problem in our parks because they displace our native plants. The Fairfax County Park Authority is committed to reducing invasive plants in our parklands and we need your help!
Join us April 1 to May 31, during our Take Back the Forest campaign. This effort, part of the Invasive Management Area (IMA) Volunteer Program, targets the removal of invasive plants during the beginning of the growing season to allow native plants to flourish.
Invasive plants can include trees, shrubs, grasses or vines and are introduced either intentionally or accidentally to our environment. Invasive plants tend to grow and spread rapidly and outcompete native plants for resources needed to survive. This process can lead to extinctions of native plants and animals, and can also have major economic impacts.
Anyone can participate and be an environmental hero! This is a particularly fantastic opportunity for those looking to earn service hours, Scout groups, students, work groups, families, master naturalists and community members looking to make a difference. Take Back the Forest volunteers will receive a free Take Back the Forest T-shirt, while supplies last.
To participate, visit the Invasive Management Area Program website and select IMA Workday Calendar to register for volunteer opportunities.
The Invasive Management Area (IMA) Volunteer Program is a community-based project designed to reduce invasive plants on our parklands. IMA is more than just pulling weeds, the program gives volunteers an opportunity to connect with like-minded people while taking care of natural resources. IMA volunteers help protect the plants and wildlife of Fairfax County's forests while spending time outdoors, meeting new people and restoring natural habitats.