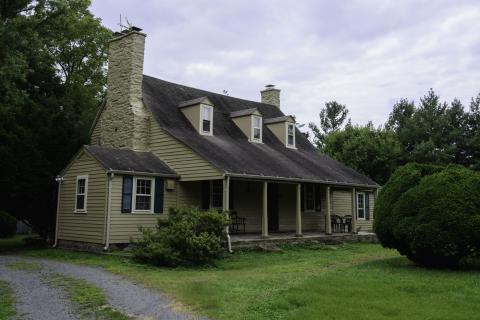 The Fairfax County Park Authority has set an initial series of public meetings to begin the discussion concerning the future of the Mount Gilead property and historic house in the Sully District. The initial public meeting, scheduled for Tuesday, June 20, at 7 p.m., will provide a broad overview of the Park Authority's Resident Curator Program and discuss the future uses and considerations for the Mount Gilead property as part of the program. This will be a virtual meeting hosted via Zoom.
Mount Gilead is an 18th-century vernacular-style house that was originally built as a combined residence and tavern. Several restorative changes were made to the property to preserve and rebuild the home in the mid-1930s and again during the 1950s and 1960s. The house was recorded as part of the Virginia Landmarks Survey, as well as in the 1969 Historic American Buildings Survey. The 6-acre property and historic house was purchased by the Park Authority in 1996.
In addition to the initial Zoom meeting, an in-person open house has also been planned on Saturday, June 24, from 10 a.m. to 2 p.m. Members of the community and prospective applicants to the Resident Curator Program are welcome to visit and tour the property, ask questions and share thoughts and feedback with staff. The property is located at 5634 Mount Gilead Road in Centreville, Virginia.
The Resident Curator Program is designed to preserve Fairfax County's historic buildings by offering long-term leases, without charge, to private citizens or organizations in exchange for their financial commitment to rehabilitate and maintain the property in accordance with established preservation standards.
For additional information about the Mount Gilead property and historic house, including access to public meetings and supplementary information and materials, please visit the Resident Curator Program website. Questions may also be directed to the Public Information Office at Parkmail@fairfaxcounty.gov.