On Saturday, June 5, 2021, members of the community and local leaders celebrated National Trails Day by cutting the ribbon on the new Smokewood Bridge in Long Branch Stream Valley Park of the Braddock District. The new fiberglass structure pedestrian bridge replaces a damaged steel bridge that was removed earlier this year.
The $62,000 project was funded via a combination of tax dollars and proffer funding. The trail provides recreational opportunities for the community, as well as commuter connections to Olde Creek Elementary School and Woodson High School.
American Hiking Society's National Trails Day is a celebration of America's magnificent trail system, occurring annually on the first Saturday in June.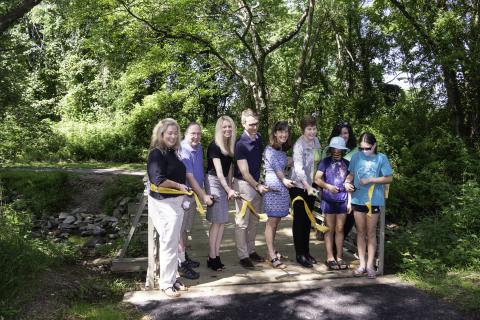 Pictured from left to right are: Sara Baldwin, FCPA Acting Executive Director; John Davis, community leader; Melissa H. Miller, Principal, Olde Creek Elementary School; James Walkinshaw, Braddock District Representative, Fairfax County Board of Supervisors; Megan McLaughlin, Braddock District School Board Representative, Fairfax County Public Schools; Sue Murray, community organizer; and Kirsten Reddish, Hayley Smerke-Hochberg and Whitney Smerke-Hochberg, community members.
Media Note: Click photo above to download.
See more photos at Smokewood Bridge Ribbon-Cutting | Flickr.