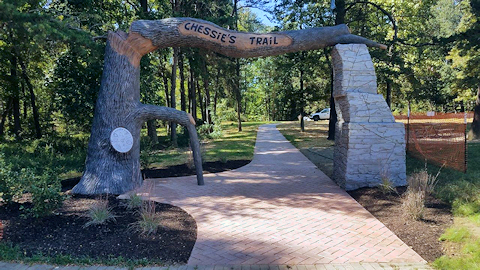 The Family Recreation Area at Lee District Park continues to grow in appeal to families with the addition of Chessie's Trail – a nature trail dotted with features designed to appeal to children. Start your new year off with a hike on this unique new trail. 
Starting at the entry feature near the treehouse seating area that welcomes you to Chessie's Trail you wind through the wooded area below the park's treehouse and amphitheater and encounter a surprising variety of interactive features and activities. Along the 2,160-foot accessible trail you will find a face sculpture, tree stump bench and sound garden among other features. Visitors can relax in the unique nest seating area, play with the spinning rocks and stroll the boardwalk. When children cross the metal grate bridge, they'll find a broken path and a sidewalk with animal tracks. Before you reach the stone abacus at the end of the trail you will have encountered all kinds of wildlife figures representative of animals indigenous to the Chesapeake Bay region.
Planning for Chessie's Trail was led by a project team consisting of representatives from the Fairfax County Park Authority's Resource Management, Park Operations, Park Services, and Planning and Development divisions. The civil engineering firm of Bowman Consulting was hired to develop a plan and prepare a cost estimate for the themed trail. Cre8Play, a nationally-recognized firm that specializes in the design of creative thematic play equipment, was consulted to assist with the design of the accessible nature-themed activities and interpretive areas. The $1.2 million project was financed through a combination of Park Bonds and a Virginia Commonwealth Department of Conservation and Recreation Land and Water Conservation Fund grant of $391,374. 
For more information, please contact the Public Information Office at 703-324-8662 or via Parkmail@fairfaxcounty.gov.