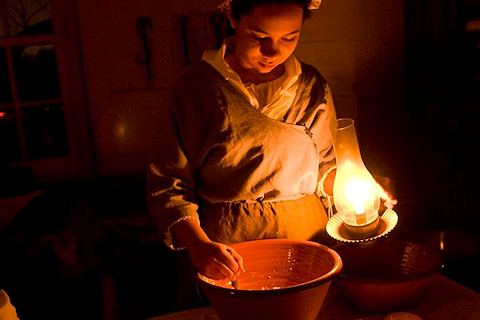 Celebrate the holidays with a glimpse into the past at Sully Historic Site. Bring the whole family for a charming, candlelit tour of Sully and enjoy past holiday festivities during "Christmas with the Lees" on Saturday, December 9, 2017, "Christmas on the Homefront" on Saturday, December 16, and "Victorian Candlelight" on Sunday, December 17. Tours begin at 4 p.m, each night and conclude at 8 p.m. on Saturday evenings and 7 p.m. on Sunday.
On December 9, tour the candlelit home of northern Virginia's first Congressman Richard Bland Lee, decorated for a Federal Period Christmas. Listen to fiddle music, and see the festive foods, card games, and amusements that made up holiday revelry.
On December 16, get in the spirit of a 1940s Christmas! Listen to recorded historic big band music and festive carols. Learn about rationing and cooking with substitutions, made necessary by the war. Period soldiers share the latest on the war and efforts on the homefront.
On December 17, enjoy Victorian-era traditions as you meet Sully's Santa, take pictures near the old-fashioned sleigh, and see the Christmas tree decorated according to an 1885 memory.
At all three evenings, you can make a holiday craft as a memento of your visit, enjoy the smells and sights of holiday cooking over an open hearth and sample hot cider and tasty cookies made by the Chantilly High School Culinary Academy.
Prepaid reservations are required as space is limited. Tickets are $10 per person and may be purchased online. For information, call 703-437-1794 or visit Sully Historic Site.
Sully Historic Site was the 1794 home of Richard Bland Lee, the first Congressman from northern Virginia and an uncle to Robert E. Lee. Sully is located at 3650 Historic Sully Way, off of the Air and Space Museum Parkway (East) interchange on Route 28 (Sully Road), about ¼ mile north of Route 50 in Chantilly, Virginia.
Register for Christmas with the Lees
Register for Christmas on the Homefront