2018 Healthy Strides Community 5K and 10K
Thank you to all participants. Photos and race results now online.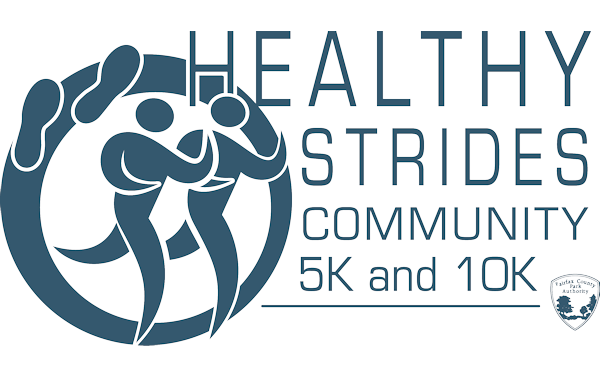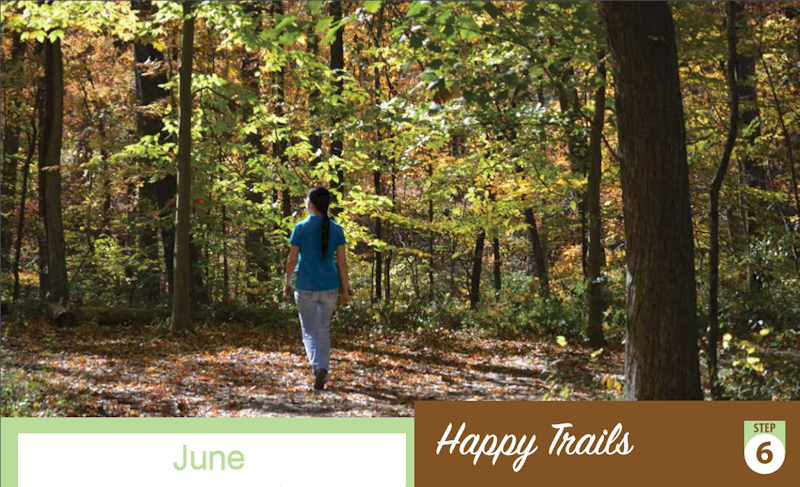 JUNE - Step 6: Happy Trails
Hitting the trail - by yourself, with your family or with friends - is a great way to get exercise and enjoy the scenery in your community.
MAY WINNER - Jamilah Dalton
How many miles of bikeable trails (shared use) are located within Fairfax County?
a) 50 miles
b) 200 miles
c) 350 miles
d) 500 miles
Answer: D - 500 miles.
500 miles of bikeable trails (shared use) are located within Fairfax County.
APRIL WINNER - Nancy McDonough
You use a reusable cup or bottle to drink the recommended 64 oz. (1/2 gallon) of water per day. You drink filtered tap water – the filter can make up to 80 gallons of clean water. How many days of clean drinking water will you get before you need a new filter?
a) 64 days
b) 80 days
c) 160 days
d) 200 days
Answer: C - 160 days.
1 gal = 128 oz
80 gal = 10,240 oz of water can be filtered
64 oz is the daily recommendation
10,240 / 64 = 160 days of filtered H20
Source: Healthy Life Healthy Planet
MARCH WINNER - Jolene Romanyshyn
Across the entire food production and consumption chain, up to what percentage of all food in the United States never gets eaten?
a) 10%
b) 20%
c) 30%
d) 40%
Answer: C - 40%. Across the entire food production and consumption chain, up to 40% of all food in the United States never gets eaten. This translates to $218 billion lost, which includes the cost of food wasted at the consumer and retail levels, as well as the cost of wasted water, energy, fertilizers, cropland and production.
FEBRUARY WINNER – Jodi Conklin
Feel your heart beat... what part of your heart makes the "thump-thump" sound?
A) The blood moving in and out
B) The four heart valves closing
C) 2 valves closing, 2 valves opening
D) A little guy playing drums in your chest
Answer: B. The "thump-thump" of a heartbeat is the sound made by the four valves of the heart closing.
JANUARY WINNER – Jennifer Kaplan
When hiking in cold weather, you should layer your clothing with different types of fabrics to stay dry and warm. Which type of fabric should be avoided?
A) Nylon
B) Wool or fleece
C) Water-wicking synthetics
D) Cotton
Answer: D – Cotton. The clothing layers should consist of several different types of fabrics. Cotton should be avoided in cold conditions. Cotton absorbs and retains water, and therefore it will not keep you warm if it gets wet. Also it can be difficult to dry. Polypropylene or other hydrophobic synthetic fabrics move the moisture (sweat) away from your body to the outside of the layer, reducing evaporative cooling and keeping you dry and comfortable. Wool or synthetic pile/fleece fabrics don't absorb water so they keep you warm even if they get wet. Pile also dries very quickly. A wool sweater or pile jacket provides warmth on a chilly evening. Nylon or Nylon/Cotton Windshells reduce convective heat loss. For raingear, coated nylon is lightweight and works well. Waterproof-breathable fabrics are also possible but are expensive.
June Trivia Question
Please fill in all of the fields below:
Fairfax County Trail Buddy
Fairfax County Trail Buddy is a great mapping tool that allows users to locate any 900 miles of trails in the county. Trail Buddy also provides access to the Bike Fairfax Interactive Bike Map, which displays the best on-road and off-road bike routes for people who ride for recreational purposes or those who chose to commute by bike. Take your family out on one of the various trails and have a little adventure! Check it out, the link is below!
The Health Benefits of Hiking
Hiking is a great way to get out and have a little adventure. However, hiking comes with some great health benefits that can improve your life. Check these out!
Heart Disease – Individuals who exercising significantly reduce their chances for heart problems, while those who do not exercise are twice as likely to have coronary heart disease according to the CDC.
Hypertension – Physical activity such as hiking can lower blood pressure by 4 to 10 points.
Diabetes – For a person who has Type I diabetes, walking can reduce the amount of insulin the person needs. For a person with Type II diabetes can reverse the course of the disease through exercise among other things like diet and weight loss.
Obesity – Like all forms of exercise, hiking is one of the best ways to lose weight and is a method of stabilizing cholesterol levels.
Osteoporosis and Arthritis - Hiking and walking help reverse the negative effects of osteoporosis by increasing the bone density and slowing the rate of calcium loss, thus strengthening the bones and decreasing their susceptibility to break.
Source: American Hiking Society, Health Benefits of Hiking
Tips of the Month
Hiking Safety
Always hike with another person and when hiking with children keep them sights.
Carry a current park trail map and know how to read it in case you get lost.
Carry a flashlight and a first aid kit for injuries that may occur.
Bring an adequate amount of water, 2-4 quarts per person per day.
Check the current weather forecast before going out and be prepared for quickly changing weather conditions that may occur.
Wear shoes or boots that provide good ankle support.
Avoid hiking at night. If you are camping, plan to get to your campsite before dark.
Source: National Park Service, Hiking Safety
2018 Healthy Strides Calendar
12 Months, 12 healthy goals. Don't miss out on this year's great wellness opportunities in the Fairfax County community! The calendar contains fitness and wellness tips, ways to improve your nutritional habits, and better health ideas for kids, teens and adults. Also, the calendar contains coupons to use throughout the year. STEP UP to better health!
About Healthy Strides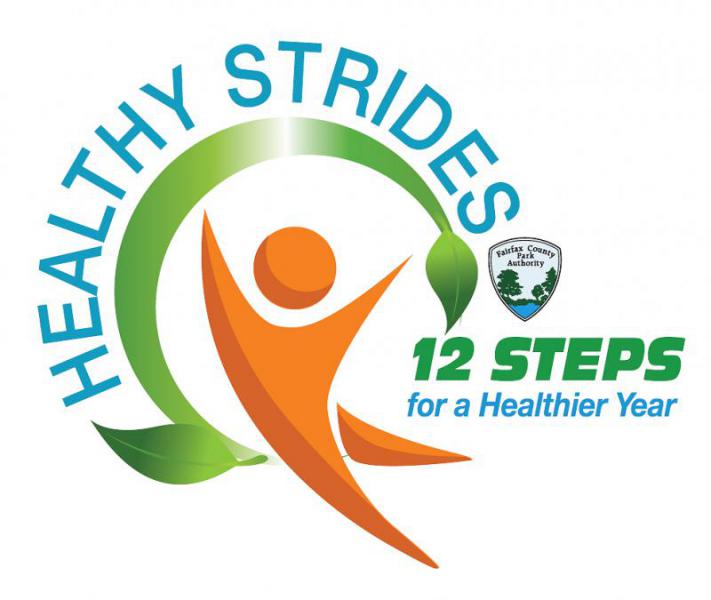 Welcome to Healthy Strides – giving you 12 Steps for a Healthier Year! Don't miss out on this year's great wellness opportunities in the Fairfax County community!
The Healthy Strides program is free* and anyone can participate at any time.
This program is designed to:
Help you accomplish healthy goals each month, with tips to keep you going for the duration.
Give you access to information - free workshops and a Wellness Book Club are available each month on different healthy topics.
Provide an opportunity for you to experience wellness programs offered across Fairfax County, including Mini-Health Fairs, held quarterly.
Empower you to make important lifestyle changes... you can do it!
*There is a registration fee to participate in the Healthy Strides Community 5k/10k.
Monthly e-Newsletter Subscription
Sign up to receive Healthy Strides news every month! Stay on track for making healthy changes in your life with our helpful articles and tips, as well as our free events schedule. The monthly trivia answers will be revealed and winner will be announced. Quick, easy and useful.
Make healthy strides in your own life by joining the Healthy Strides Wellness Book Club! This club is for adults, and meets at different Fairfax County Public Library sites each month. Discussion on the featured books will be led by a Fairfax County Park Authority fitness and wellness expert, on topics in health, fitness, nutrition and wellness.
RELATED RESOURCES