Welcome to the Family Recreation Area at Lee District Park, home to Our Special Harbor and Chessie's Big Backyard, a fully accessible recreation area for EVERYONE to enjoy!
Our Special Harbor
If you like running through the sprinkler, you'll love Our Special Harbor. This fully accessible Chesapeake-Bay themed sprayground has fun features including a spraying osprey nest, Chessie the sea serpent, misting sunflowers and a lighthouse. The beach area is quieter with softer bubblers and interactive water tables. The computerized water maze and dumping crab basket provide more lively activity.
For safety, children (15 years and younger) enjoying the spray park, MUST wear aquatic shoes or sandals at all times; non-standing, non-mobile, babies are exempt; adults may wear flip-flops instead of aquatic shoes or sandals. Street shoes are NOT PERMITTED in the sprayground.
General Admission is free for families; however there is a daily fee for each participant and chaperone for commercial or nonprofit groups. $5 for Fairfax County residents, $10 for Non-County residents. Space is limited for commercial/nonprofit groups.
Reservations can be faxed to 703-719-0987 or in-person through the Manager on Duty at Lee District RECenter prior to the visit. Download Our Special Harbor Group Use Form.
Tree House
Explore the treetop canopy like never before and observe nature from a totally different perspective as you make your way up the ramps winding around the tree trunks until you arrive at the tree house!
Playground
The playground at Chessie's Big Backyard is fully accessible to all children with padded rubber floor surface and lots of features to crawl through, climb over and ramps wide enough for wheelchair access as well. Children can enjoy slides, swings, and other specially designed equipment with access for all.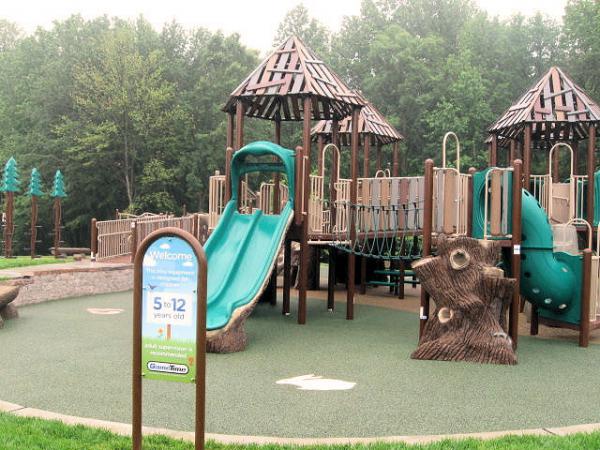 Carousel
The carousel has a Chesapeake Bay theme with animals such as a turtle, frog, hummingbird and swan, in addition to traditional horses. Get ready to take a ride on the carousel that allows children of all abilities to go 'round and 'round, side by side, because children who use wheelchairs are able to transfer to a bench and move vertically, rather than riding in a fixed position.