A Christmas Day Wedding Gift that Gives a History Lesson
Throughout history, gift giving has been a tradition of wedding celebrations. Often many of a young couple's nicest belongings are obtained as wedding gifts. This was the case for Goldie Virginia Millard and Edward Frank Clarke, who married on December 25, 1906. Goldie was 22 and Edward 24. According to family oral history, Goldie's younger sister, Charlotte (Lottie) Millard, gave Goldie this beautifully decorated pitcher at a cost of 25 cents to celebrate the marriage.
Charlotte and Goldie were the daughters of Addison and Emma Millard, the owners of Colvin Run Mill. In 1883, Addison Millard purchased Colvin Run Mill and moved his family there. Emma and Addison had 20 children, and Goldie was the first of them born at the mill. Throughout her life, Goldie maintained a fondness for the mill and the Colvin Run community. Her daughter donated personal items to the Fairfax County Park Authority, and this pitcher, donated in 1985, represents the close ties of the Millard family to Colvin Run.
The pitcher is an example of pink lustreware. Lustreware has a metallic glaze that produces an iridescence. This is achieved by using metallic oxides as an overglaze and then firing the vessel at a low temperature. Common lusterware colors are gold, silver, copper, purple and pink. Pink lusterware became commercially available around 1790 when English potters discovered that gold glaze would turn pink during a low-temperature second firing. The style eventually became popular in America and was produced through the 1940s. Pink lusterware commonly has a central transfer print or decal image. This one has three cherubs playing chess surrounded by lush blue and red fabrics and an overflowing vase of flowers. The shape and design suggest it might be of German origin. Lustreware can be found as decoration on many common ceramic forms such as tea sets, cups, plates, and saucers, but is most often found on pitchers. When Charlotte gave Goldie this pitcher, she not only gave her sister something useful and beautiful, she marked her as a fashionable young woman.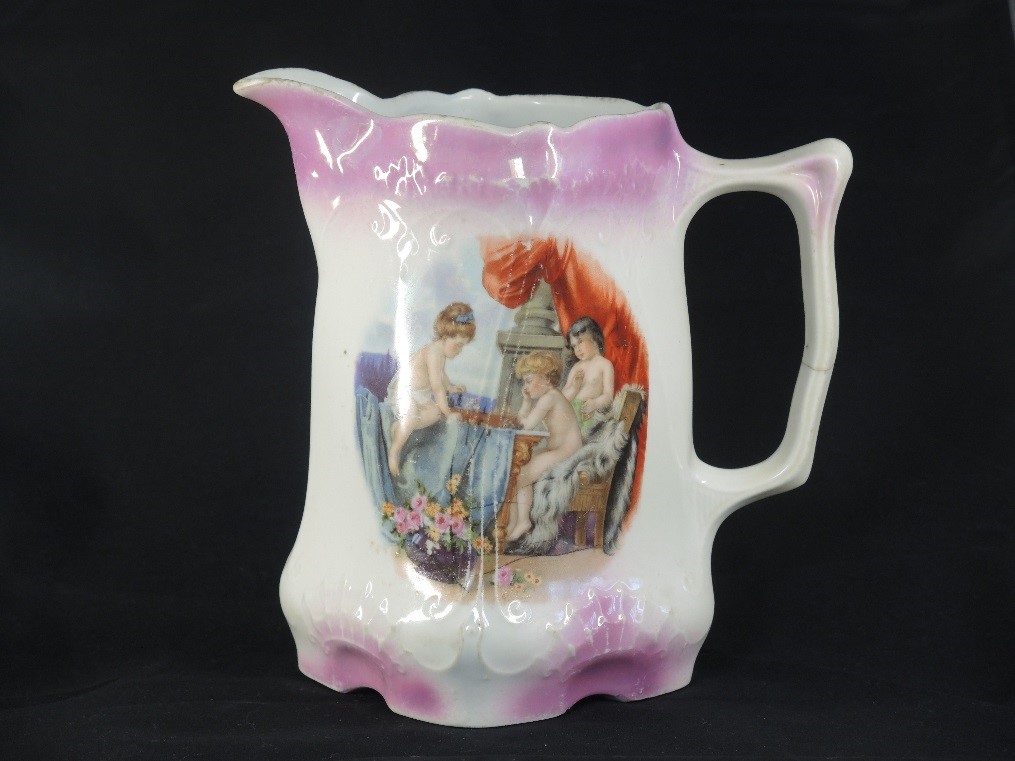 Other artiFacts