Reminder: ProjectDox Phase 2 launched Nov. 16.  Watch a training video on YouTube. Additional Details online.
---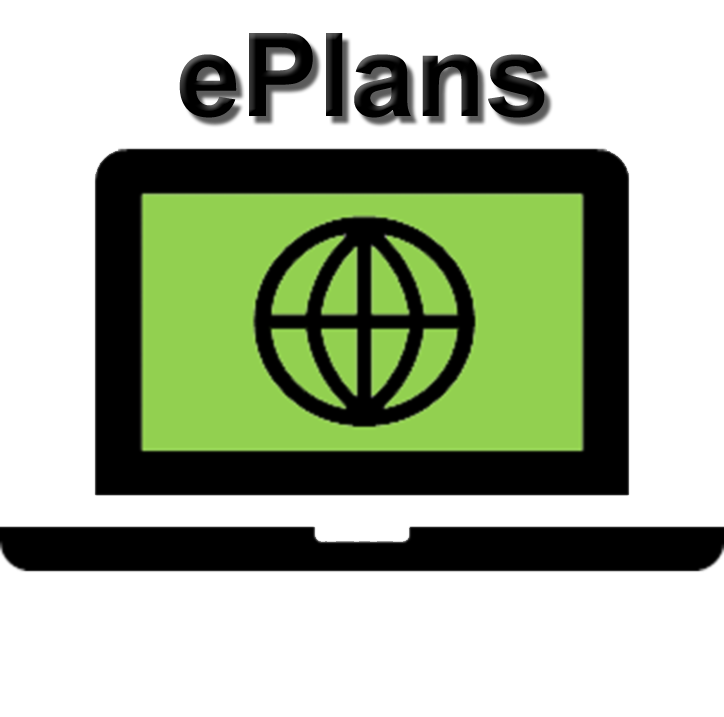 Although you apply for your permit using the FIDO system, all building plans are uploaded through the ProjectDox system.
The following are helpful resources to review before attempting to upload your ePlans:
Step 1: PREPARE YOUR EPLANS FOR UPLOAD
It is important that you prepare your electronic plans in accordance with the guidelines below so that they can be accepted for review in the county's ePlans system (ProjectDox).
Each page of the drawings MUST be submitted as a single sheet.
File names may only use alphanumeric characters, spaces and underscores (any additional symbols may cause the file to become corrupted).
File names must not exceed 25 characters in length.
File names must be a combination of discipline and sheet numbers as seen in the table below.
The first character represents the discipline (e.g., A=architectural) and must be followed by a three-digit number (e.g., A001_FirstLevelFlrPlan).
Please omit the lead alpha character for coversheets and general notes so that those sheets will be indexed first by the system. (i.e., "000_Coversheet" or "001_General_Notes.")
PDF is the preferred type of file. Other common, secure file types are accepted.
| | | | |
| --- | --- | --- | --- |
| Drawing Type | Discipline Header | Sheet Number Range | Example Filenames |
| Coversheet |   | 000 – 999 | 000_Coversheet |
| General |   | 000 – 999 | 001_Index |
| Architectural | A | 001 – 999 | A001_SecondFlrPlan |
| Structural | S | 001 – 999 | S004_FirstFlrFraming |
| Electrical | E | 001 – 999 | E007_PanelSchedule |
| Fire | F | 001 – 999 | F012_SpecialLocking |
| Mechanical | M | 001 – 999 | M025_ThirdFlrMechPlan |
| Plumbing | P | 001 – 999 | P031_RiserDiagram |
STEP 2: LOG IN TO PROJECTDOX THROUGH YOUR UPLOAD INVITATION
When you created a ProjectDox account (see Getting Started with ePlans) you received an invitation. Read the information and instructions in your ProjectDox invitation email carefully, and then click on the "Project Permit Access Link" contained in the gray box in the email.  This will direct you to the ProjectDox website for your project. This will also become the homepage for all your projects and submissions to Fairfax County. **We recommend you bookmark your account page.**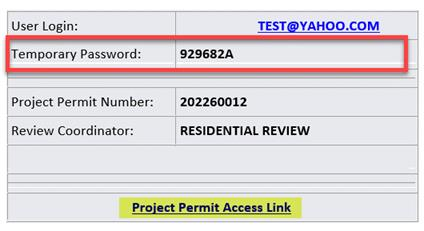 Step 3: upload YOUR PLANS
Once you have logged in to ProjectDox, click "Applicant Upload Task." A pop-up task window will open where you can view and upload your drawings, documents, and site related documents.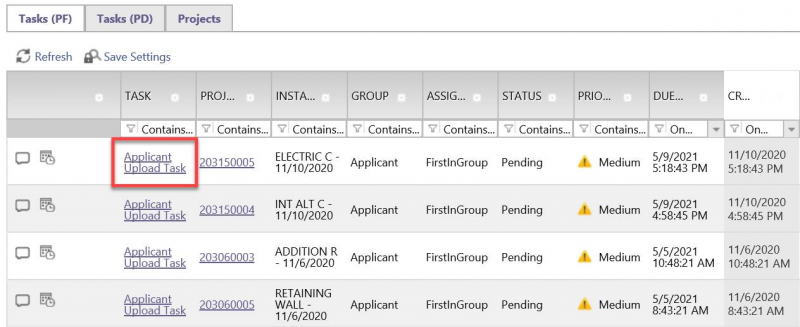 Plans/drawings must be uploaded to the project's "Drawings" folder.
Documentation such as letters, manufacturers specifications, etc., must be uploaded into the project's "Documents" folder.
Site-related plans associated with a building permit should be uploaded into the Site Related Documents folder. This is the equivalent of the legacy practice of attaching a copy of the site-related plan to the architecturals pending approval through the site review process.


Step 4: Adding/removing group members
At your discretion, you may invite others to upload drawings and documents for your project. Group members may be added (or removed) from the plan upload page.
Users in the "Contractors Group" have view only privileges. They can view documents and download the final approved drawings. If a user on your contract and design team will not need to respond directly to the county for plan approvals, you should add them to the "Contractors" group.
Users in the "Applicant Group" can upload sheets, respond to review comments and accept tasks. It is advisable to add people to the "Applicant Group" who may need to respond to review comments or upload additional drawings and attachments. **Just make certain that the primary applicant accepts the task in ProjectDox before other team members perform any actions on applicant tasks.** LDS staff recommend that although your project manager should be the person to "accept the task" and shepherd the plans through the process, adding other designers to the application can improve communications on your project with LDS staff. For example, if you add your plumber or electrician to the group, they will be able to upload their own plans.

Step 5: Completing the task!
Step 5 is the most often missed step in the process and can lead to significant delays in processing if not completed properly. After you have uploaded all necessary plans and documentation, you must complete the task by scrolling to the bottom of the upload window, and checking the box labeled "Upload Task Complete."


Until you click the button for "Upload Complete - Notify Fairfax County," the system still sees the process as waiting for additional drawings and NO REVIEWS WILL BE STARTED. You MUST click this button to start a Fairfax County plan review.


Some users have reported issues where the pop-up window does not display the upload complete button. If you do not see the button at the bottom of the screen, it may be that you have not yet selected the "Upload Task Complete" box.
For general questions about the ePlans process, contact staff at 703-222-0801, option 2, TTY 711, or email staff.