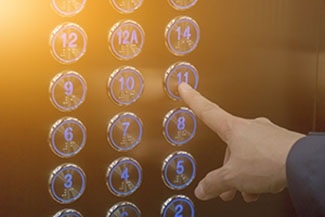 On May 1, 2019, ATIS Elevator Inspections, LLC took over the county contract to provide the inspections necessary for permitting of elevators, material hoists, wheelchair lifts, escalators and dumbwaiters in Fairfax County. During the transition to the new vendor, the county identified gaps in the permitting and inspection process and has now made improvements to address those gaps. Please read the following announcements carefully, as they affect the process and fees associated with inspections.
IMPORTANT:
Process Change:  On July 1, 2019, Fairfax County will no longer require Certificates of Compliance to indicate that non-safety-related violations have been corrected. Now, the county will link any items noted in your periodic (six-month) inspection to your annual inspection. You have six months to address the items from the periodic inspection before your annual inspection. If the items are still unaddressed at that time, then your system will not pass the annual inspection, and will require a re-inspection with associated fees.
 
Test Fees: The fees for periodic or annual inspections and all other related vertical transportation fees have not changed. However, we recommend that customers review Appendix Q, the LDS fee schedule (section G). Some fees for tests that have not traditionally be charged will begin to be invoiced, such as Governor, Speed, Static (Hydraulic), Load, Fire and Smoke tests.
 
Permits Required: Fairfax County requires that a building owner/operator obtain a permit prior to making any alteration or repair to a piece of equipment associated with an elevator or conveyance system that requires an inspection.
 
Cancellation Policy: If a building owner/operator cancels a scheduled inspection or acceptance testing appointment less than 48 hours before the appointed time, or if the equipment is not inspection-ready at the time of the appointment, then the county will charge the permit holder for all tests individually that were to be performed at that appointed time, as well as a reinspection fee. These fees must be paid prior to rescheduling the appointment.
 
Reinspection and Retest Fees: If, during a scheduled inspection or acceptance testing appointment, the equipment does not pass all necessary tests, then the permit holder will be charged the fees for any re-tests that need to be performed. This may include reinspection and all applicable re-tests, based on the items that do not pass at the original appointment. All fees must be paid to Fairfax County before any re-tests may be scheduled. 
OTHER NOTES:
Now Required: The property owner or owner/agent must be present at the annual inspection.
 
Needed Information:  Please make sure that Fairfax County has the most up-to-date contact information for your building or residence (including the correct owner/agent information). Fairfax County is not responsible for late fees and other issues that may arise if you have not provided accurate contact information. To update your information, go to www.fairfaxcounty.gov/landdevelopment/elevators.
 
Fairfax County is committed to public safety and customer service. We thank you for your patience as we improve our inspection program. If you have any questions, call 703-631-5101.
For more information, visit www.fairfaxcounty.gov/landdevelopment/elevators.