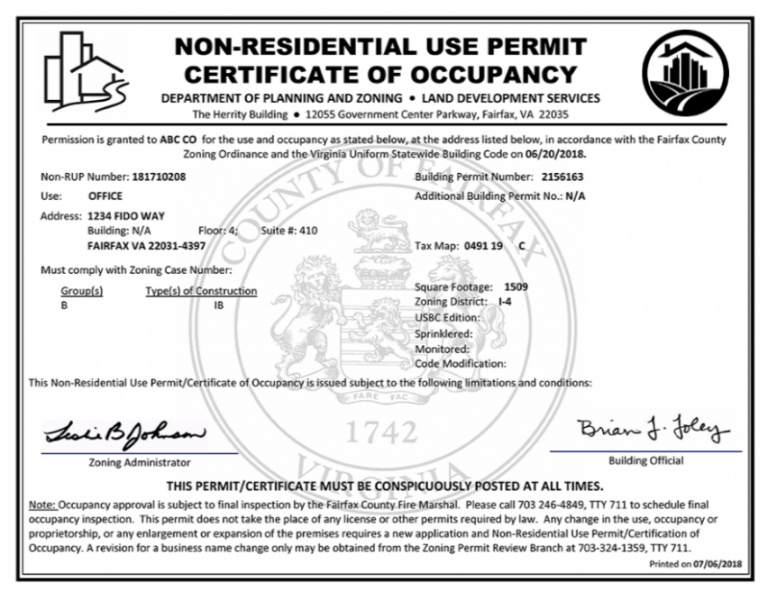 Clarity and simplification: These are two of the goals of Fairfax's ongoing improvements to the development review process, most recently achieved during the revamp of the Nonresidential Use Permit or NonRUP. The Zoning Ordinance has for many years required commercial properties to obtain an occupancy permit, referred to as a NonRUP.  The NonRUP, however, is not issued until all the requirements of the building code have been met. 
Because the former NonRUP certificate did not explicitly state that it was also a certificate of occupancy, this process led to confusion.  Also, the previous certificate provided limited building code information.  This summer, the Fairfax County Departments of Planning and Development (DPD) and Land Development Services (LDS) developed a new Nonresidential Use Permit certificate that clearly serves as both a use permit, from a Zoning Ordinance perspective, and a certificate of occupancy, from a building code perspective.  The certificate is signed by both the Zoning Administrator and the Building Official and will have both the words "Nonresidential Use Permit" and "Certificate of Occupancy" in its title.  The certificate also includes, when available, building code information, such as sprinklers or code modifications. 
As a result of Fairfax County's transition to a new permitting system in 2022, administration of NonRUPs transitioned to Land Development Serves and all applications are submitted through the Planning and Land Use System (PLUS). See Techncial Bulletin 22-10 "Changes to the Nonresidential Use Permit" for more information.

Related Resources