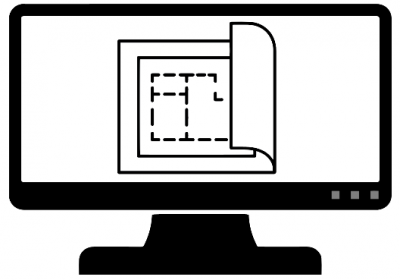 Interested in accessing approved site records remotely? Now you can!
You can access site-related records 24 hours a day from the comfort of your own home or office at the county's new web-application: Site Records Viewer (SRV). If you can access the internet, you can access approved site records through the new SRV!
By clicking the SRV link, you can download or view PDFs of approved site-related plan records, such as infill lot grading plans, resource protection area studies, and site plans. Land Development Services (LDS) developed the SRV application to allow anyone to search for site development records geographically, or by a search function.
We're offering this online tool as a new permanent option to review site-related records—and in fact, this service will be the only way to look at these records while county buildings are closed to the public until further notice, starting Friday, March 27 at 5 p.m.
LDS staff will continue to provide research assistance and copies of all records. For any records not accessible through the SRV, such as some site records older than the year 2000, use our Records Request Form available at: https://www.fairfaxcounty.gov/landdevelopment/lds-public-records.
Please contact the LDS Records and Information Branch via email at LDSRecords@fairfaxcounty.gov for additional information.
This is only one of several new online tools available to anyone interested in coordinating with Land Development Services for plan submission, record review, and inspection services for the duration of the novel coronavirus. More information on Land Development Services' operational status is available online.
Contact Name
Danielle Badra
Contact Information
Technical Writer/Management Analyst
Fairfax County Land Development Services
12055 Government Center Pkwy., Suite 659
Fairfax, VA 22035
Danielle.Badra@fairfaxcounty.gov