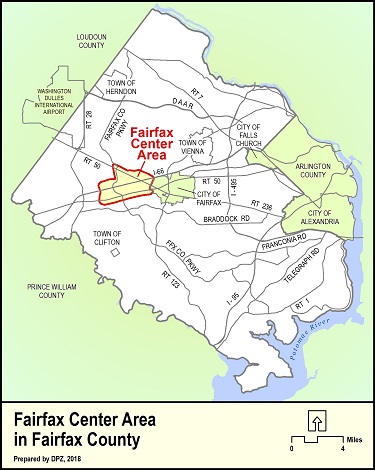 2016 Proffer Reform Bill - Exempt
PLUS Record Number:
PA-2020-00007
The Fairfax Center Area Study (Plan Amendment 2013-III-FC1) was a multi-phase planning study to examine the Comprehensive Plan guidance for the Fairfax Center Area. The Fairfax Center Area comprises approximately 5,500 acres west of the City of Fairfax and east of Centreville, generally between Lee-Jackson Memorial Highway (Route 50) and Lee Highway (Route 29). The area has evolved from greenfields into a community of neighborhoods, retail, and employment. The Fairfax Center Area Study assessed how the Fairfax Center Area will continue to evolve in the next 20-30 years.
Click on the map for a detailed enlargement of the area. 
Phase I
The Board of Supervisors adopted Phase I - PA 2013-III-FC1(A) of the Fairfax Center Area Study on December 2, 2014. This phase involved an evaluation of the Comprehensive Plan recommendations for the suburban neighborhood and low density residential areas along the edges of the study area.
Phase II
The second phase - PA 2013-III-FC1(B), adopted on December 6, 2016, evaluated the Suburban Center portion of the study area and the Area-wide guidance. An area-wide working group met monthly to discuss Plan changes. 
Phase III
The third phase of the study will evaluate the Land use mix and intensity on specific sites within the core area, as proposed by the working group.