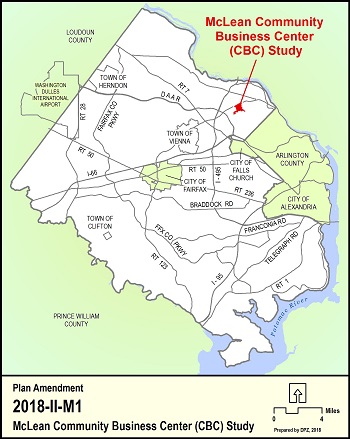 2016 Proffer Reform Bill - Exempt
The McLean Community Business Center (CBC) Study is a land use planning study that will review recommendations for future land uses, development intensities, transportation, public facilities and urban design within the CBC.
Community Engagement
The study began with several community workshops held in June.  The purpose of the workshops was to begin to develop a vision for the future of the McLean CBC. The county will also accept suggestions for land use change within the CBC through a submission process. A task force, comprised of representatives from the community, will work on creating new Comprehensive Plan recommendations for the CBC that are based on the community's vision and that will consider the suggestions for land use change.  Opportunities for community engagement and input will occur throughout the study. The goal of the process is to review and revise Comprehensive Plan recommendations as needed to create a Plan that reflects the vision of the McLean community. 
Task Force
John W. Foust, Dranesville District Supervisor, appointed the McLean CBC Task Force to consider and offer recommendations for changes to the Comprehensive Plan guidance for the McLean CBC.  The task force is comprised of community members with diverse backgrounds and affiliations. The group will provide recommendations for new Comprehensive Plan guidance for the CBC based on the community's vision and suggestions for land use change. The task force will meet regularly throughout the planning study. Task force meetings will be posted on the Meetings page of the McLean CBC Planning Study website and are open to the community.  A list of the task force members and their affiliation is provided below.
Kim Dorgan, Chair of McLean CBC Task Force
Roshan Badii, Mclean Revitalization Corporation
Bailey Edelson, JBG Smith
Kelley Green Kahn, Churchill Road PTA
Francesca Gutowski, McLean Citizens Association
Rob Jackson, McLean Citizens Association
Tom Jacobi, At-Large
Paul Kohlenberger, Greater McLean Chamber of Commerce
Bob Montgomery, McLean Properties
Nicole Morrill, McLean Planning Committee
Ed Murn, McLean Planning Committee
Johanna Ogden Henneberg, At-Large
Jim Peoples, Bryn Mawr
Winnie Pizzano, West McLean
Amitha Prabhu, Franklin Sherman, At-Large
Rich Salopek, McLean Planning Committee
Andrew Serafin, McLean Planning Committee
William Suddow, McLean Revitalization Corporation
Derrick Swaak, McLean Project for the Arts
Jack Wilbern, At-Large