9439 LEESBURG PIKE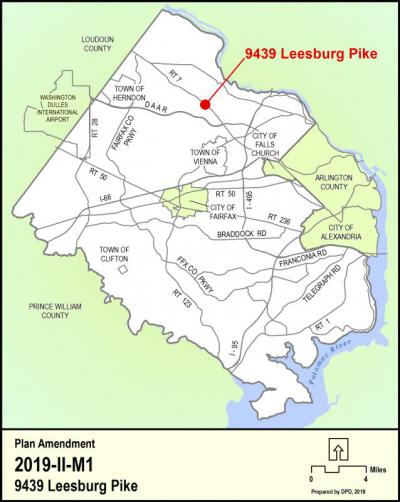 2016 Proffer Reform Bill - Non Exempt Area
Tax Map Parcel:
19-3 ((1)) 19
Supervisor District:
Dranesville
Planning District:
McLean
On July 30, 2019 the Board of Supervisors authorized the consideration of a Comprehensive Plan amendment for 9439 Leesburg Pike (Tax Map Parcel 19-3 ((1)) 19) in the McLean Planning District, Dranesville Supervisor District.
The adopted Plan for this area recommends residential uses at a density of 1-2 dwelling units per acre. The 6.72-acre site is currently developed and operating as a retail plant nursery. The Board requests that staff consider a continuing care facility with 172 beds and a density of up to .65 FAR for the subject property. 
A community meeting was held on November 20th, 2019. Staff presented an overview of the Comprehensive Plan and details about the proposed amendment. A developer interested in implementing the use also presented a proposed concept plan.
Click on the map (above) for a detailed enlargement of the area.