Sully Station Shopping Center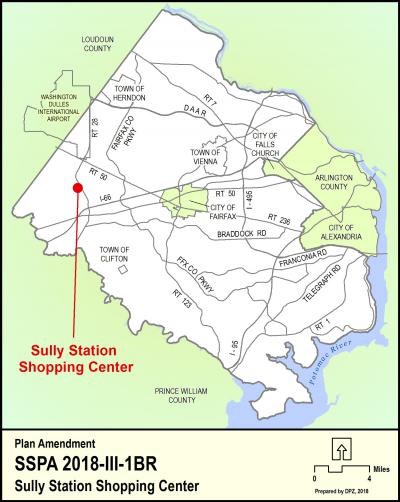 2016 Proffer Reform Bill - Non Exempt
Tax Map Parcels:
44-3 ((7)) B2 and B3
Supervisor District:
Sully
Planning District:
Bull Run
On July 31, 2018, through the approval of the 2018 Comprehensive Plan Amendment work Program, the Board of Supervisors authorized the consideration of a Comprehensive Plan amendment for Sully Station Shopping Center (Tax Map Parcels 44-3 ((7)) B2 and B3) in the Bull Run Planning District, Sully Supervisor District.
The adopted Plan for this area recommends retail use up to 0.25 Floor Area Ratio (FAR). The Board requests that staff consider add an option for mixed use up to 0.75 FAR that may include 10-26% retail use, up to 90 % office, hotel, or assisted living use and up to 10 % private recreation use for the subject property.
Click on the map (above) for a detailed enlargement of the area.
Related Resources