West Falls Church Metro Station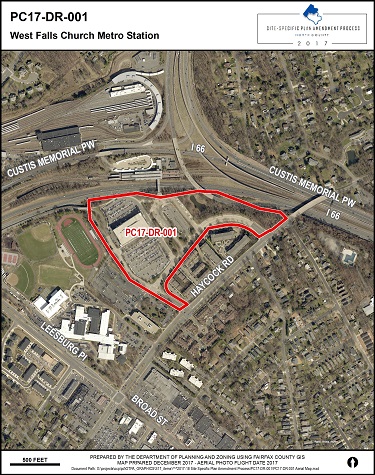 Nominator's Name:
Brian Winterhalter, agent for Washington Metropolitan Area Transit Authority
Area:
II
Supervisor District:
Dranesville
Planning District and Special Area:
West Falls Church Transit Station Area
Tax Map Parcel #:
40-4((1))13, 40-4((2))1, 2; 40-3((1))83, 84;
Address/General Location:
6920, 6922, 7040 Haycock Road; no address assigned for 40-3((1))13 and 84
Acreage:
23.99 acres
Adopted Plan Recommendation:
Public Facilities
Proposed Change:
150,000 sf Office, 300 MF Residential, and 200 residential townhomes mixed use project of up to .96 FAR.
Community Screening
Preliminary Staff Recommendation: 
PC17-DR-001 is recommended to be added to the 2018 Comprehensive Plan Amendment Work Program. The land use recommendations for the West Falls Church TSA encourage a mix of uses in a compact, pedestrian friendly urban form located within a 5-7 minute walk of the Metro Station while preserving existing stable neighborhoods around the station.
Task Force Meeting:
April 24, 2018 at 7:30 p.m.
Longfellow Middle School
2000 Westmoreland St., Falls Church, VA 22042
Task Force Recommendation:
Include nomination on the Plan Amendment Work Program as proposed.  
Planning Commission Public Hearing: 
Thursday, June 21, 2018 at 7:30 p.m.
Board Auditorium
Fairfax County Government Center
12000 Government Center Parkway, Fairfax, VA 22035
Decision Only - Thursday July 28, 2018 at 7:30 p.m.
Planning Commission Recommendation: 
Planning Commission supports Staff Recommendation for Board Adoption
Board of Supervisors Action Item Meeting:  
Tuesday, July 31, 2018 at 10:10 a.m.
Board of Supervisors Decision: 
Board supports Planning Commission recommendation and authorizes 2017 North County Site-Specific Plan Amendment along with adoption of 2018 Comprehensive Plan Amendment Work Program.
Related Documents
Preliminary Staff Summary Report
SSPA Task Force Report for West Falls Church Metro Station
SSPA Plan Amendment 2018-II-1M Page