Temple Baptist Church
**On April 11, 2018, the nominator of PC17-PR-004 requested that it be withdrawn from the Site-Specific Plan Amendment process. County staff and the task force will not consider this nomination for further review.**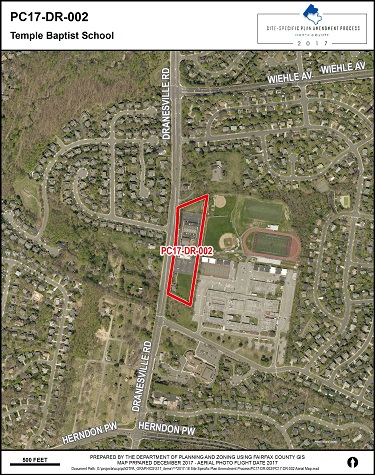 Nominator's Name:
Mathew G. Roberts, Esq. Bean, Kinney & Korman, P.C.
Area:
III
Supervisor District:
Dranesville
Planning District and Special Area:
Upper Potomac
Tax Map Parcel #:
10-2((1))7 and 7A
Address/General Location:
1545 and 1551 Dranesville Road
Acreage:
5.63
Adopted Plan Recommendation:
Residential use at 2-3 du/ac
Proposed Change:
Add an option for public/private educational facilities.
Community Screening
Preliminary Staff Recommendation: 
PC17-DR-002 is not recommended to be added to the 2018 Comprehensive Plan Amendment Work Program.
Task Force Meeting:
Not Applicable
Task Force Recommendation:
Not Applicable
Planning Commission Public Hearing: 
Not Applicable
Planning Commission Recommendation: 
Not Applicable
Board of Supervisors Action Item Meeting:  
Not Applicable
Board of Supervisors Decision: 
Not Applicable
Related Documents
Preliminary Staff Summary Report
Questions can be
emailed
or directed to Roger Dindyal at (703) 324-1382