Innovation Center Station (North)
**On March 22, 2018, the nominator of PC17-DR-003 requested that it be withdrawn from the Site-Specific Plan Amendment process. County staff and the task force will not consider this nomination for further review.**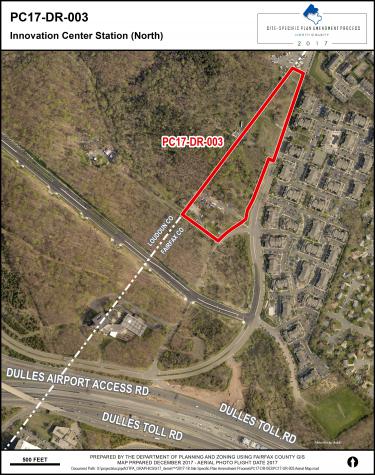 Nominator's Name: 
Richard D. Stout
Area:
III
Supervisor District: 
Dranesville
Planning District and Special Area: 
Upper Potomac, Dulles Suburban Center
Tax Map Parcel #: 
15-2((1))1, 2, 3; 16-1((1))4, 4A, 4B
Address/General Location: 
2124, 2140, 2144 and 2148 Rock Hill Road.  No address assigned for 16-1((1))4 and 4B.
Acreage: 
12.47 acres
Adopted Plan Recommendation:
Base plan for office and research and development use with ground floor retail at a maximum intensity of .25 FAR. Rail Transit Option for residential mixed-use at an intensity up to 1.6 FAR within ¼ -½ mile of the Metrorail Station, and residential use at 16-20 dwelling units per acre, at an overall intensity up to .50 FAR beyond ½ mile of the Metrorail station.
Proposed Change:
Mixed-use office, retail and residential. Eliminate the adopted base plan recommendation and the adopted rail transit option becomes the new base plan recommendation. Requests that Land Unit L-3 be considered in conjunction with PA 2017-III-DS1.
Community Screening
Preliminary Staff Recommendation: 
PC17-DR-003 is not recommended to be added to the 2018 Comprehensive Plan Amendment Work Program. Given the environmental constraints, the distance to the Metrorail station and the surrounding residential land uses to the north and east, the adopted Plan recommendations remain appropriate.
Task Force Meeting:
Not Applicable
Task Force Recommendation:
Not Applicable
Planning Commission Public Hearing: 
Not Applicable
Planning Commission Recommendation: 
Not Applicable
Board of Supervisors Action Item Meeting:  
Not Applicable
Board of Supervisors Decision: 
Not Applicable
Related Documents
Preliminary Staff Summary Report
Questions can be
emailed
or directed to Katrina Newtson at (703) 324-1233