Fairview Park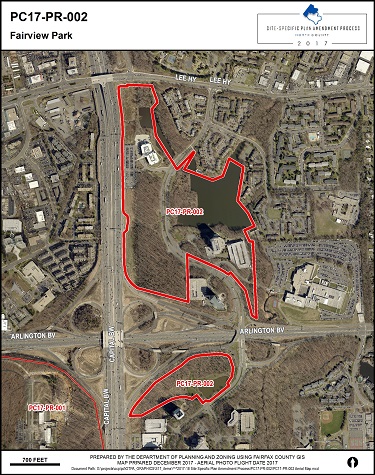 Nominator's Name:
Elizabeth Baker, Agent
Area:
I
Supervisor District:
Providence
Planning District and Special Area:
Merrifield Suburban Center, Land Unit J
Tax Map Parcel #:
49-4((1))71, 73, 73A1, 73A2, 74A, 74B
Address/General Location:
2900, 2941 Fairview Park Drive.  No address assigned for 49-4((1))71, 73, 73A1, 74B.
Acreage:
86.5 acres
Adopted Plan Recommendation:
Office use with some retail mixed use, with an option for 250 residential units.
Proposed Change:
Mixed-use with an overall FAR in the range of 0.80 to 1.0 FAR, which would include office, hotel, residential, retail, and others.
Community Screening
Preliminary Staff Recommendation: 
PC17-PR-002 is recommended to be scheduled on the 2018 Comprehensive Plan Amendment Work Program as part of an area-wide study of the Merrifield Suburban Center, in tandem with PC17-PR-001 due to the proximity. An existing conditions analysis should be conducted for the suburban center to understand current and future land uses adopted in the current Plan, the transportation network, and future human services, parks, and public facilities' needs, prior to any consideration of the proposed Plan change for the subject area.
Task Force Meeting:
April 10, 2018 at 7:00 p.m.
Providence Community Center
3001 Vaden Dr., Fairfax, VA 22301
Task Force Recommendation:
Include nomination on the Plan Amendment Work Program as proposed.
Planning Commission Public Hearing: 
Thursday, June 21, 2018 at 7:30 p.m.
Board Auditorium
Fairfax County Government Center
12000 Government Center Parkway, Fairfax, VA 22035
Decision Only - Thursday, June 28, 2018 at 7:30 p.m.
Planning Commission Recommendation: 
Planning Commission supports Staff Recommendation
Board of Supervisors Action Item Meeting:  
Tuesday, July 31, 2018 at 10:10 a.m.
Board of Supervisors Decision: 
Board supports Planning Commission recommendation and authorized 2017 North County Site-Specific Plan Amendment with adoption of 2018 Comprehensive Plan Amendment Work Program.
Related Documents
Preliminary Staff Summary Report
Fairview Park Nomination Presentation
SSPA Task Force Report for Fairview Park
SSPA Plan Amendment 2018-I-1MS Page
Questions can be
emailed
or directed to Bernard Suchicital at (703) 324-1254